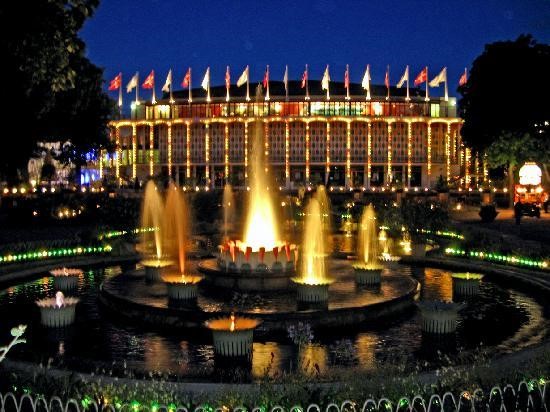 Copenhagen • Kalmar • Stockholm • Karlstad • Gothenburg • Oslo • Lillehammer
---
13 Days - Airfare included from anywhere in the U.S.
There are no trip dates scheduled at this time.
Trip Includes
Flights from anywhere in the United States and flights between countries as per your itinerary. (all necessary flights on your trip are included)
Daily Mass is available but not mandatory. Proximo Travel always has one or more Catholic Priests accompanying the group as chaplain(s).
Airport Taxes, Security Fees & Fuel Surcharges Saving you an average of $400-$600!
Transfers as per itinerary.
4 or 5 star hotels in downtown areas.
Transportation with luxury bus.
All breakfasts and all dinners. Dinners take place at upscale restaurants not at the hotel. (Except in the Holy Land, at the Shrines, or when there is a long day of travel and the circumstances necessitate it.) Wine included with all dinners.
All tips to driver, hotel, and tour guide.
Guided Tours and Tour Fees ~ Our tour guides are very caring, licensed, and well educated. Many of our guides have their PhD's.
Luggage handling (1 suitcase and 1 carry-on per person)
Single Supplement (as long as the passengers is willing to room with someone and allows us to provide them with a roommate. If the passenger wants a guaranteed room to of their own, then they have to pay the $900 single supplement)
Remember: Our trips are not more expensive during high season ~ Passengers will never be expected to pay extra for anything while on the trip ~ We always wait for passengers and never leave anyone behind.
Trip Does Not Include
---
Hotels
Hotels listed below are our preferred hotels. If reservations cannot be made at one or more of these locations, a comparable hotel will be reserved. We only use 4 or 5 star accommodations.
Copenhagen
Kalmar
Stockholm
Karlstad
Gothenburg
Oslo
---
Trip Itinerary
Day 1: Departure from USA.
Day 2: Arrival in Copenhagen. Take a city bus tour of Copenhagen. Check-in hotel. Dinner and overnight in Copenhagen.
Day 3: After breakfast, visit the Cathedral of St. Ansgar ~ the oldest Roman Catholic Church in Copenhagen. Take a short tour to North Sealand taking in Frederiksborg Castle and the Fredensborg Palace. Spend the late afternoon at the Tivoli Gardens viewing it in the evening with the beautiful lights. Dinner and overnight in Copenhagen.
Day 4: After breakfast we'll drive across the awe-inspiring five-mile Öresund bridge and tunnel connecting Sweden and Denmark. Today we'll explore the bridge-and-water-laced town of Kalmar as well as what may be Sweden's most striking, historically-significant building: bay-and-moat-ringed Kalmar Castle. As we tour the castle's interior and beautiful grounds, we'll learn about Sweden's 16th-century struggle for independence from the Danes. Dinner and overnight in Kalmar.
Day 5: After breakfast drive through beautiful birch forests on our way to Stockholm. Upon arrival, visit St. Eric's Cathedral. The church takes its name from St. Eric who was the 12th century king of Sweden who, having been slain by a Danish prince, came to be regarded as a martyr and the patron saint of Stockholm. Dinner and overnight in Stockholm.
Day 6: After breakfast, visit the Royal Palace with the daily changing of the guard. Visit the Vasa Ship Museum ~ home to the one of the most complete and preserved shipwrecks in the world. Then off to Sweden's longest stone bridge ~ East Bridge; built in the 18th century in Karlstad. It is Sweden's sunniest city. Dinner and overnight in Karlstad.
Day 7: After breakfast, visit the Varmlands Museum and the Karlstad Cathedral. Then on to Gothenburg. It is the country's primary port and second-largest city. Visit the Gothenburg Botanical Garden which has been named the 'Most Beautiful Garden' in Sweden and the 3rd most beautiful garden in the world. Dinner and overnight in Gothenburg.
Day 8: After breakfast, visit the Gothenburg Cathedral ~ currently the seat of the bishop of the Church of Sweden Diocese of Gothenburg. Free afternoon to visit the Southern Gothenburg Archipelago, Alvsborg Fortress, Slottsskogen near the Botanical Garden that is Gothenburg's largest park, the Natural History Museum and the city's oldest observatory, or shop. Dinner and overnight in Gothenburg.
Day 9: After breakfast, depart for Oslo, Norway. Take a panoramic coach tour as an introduction to the major sights of Oslo. Visit the maritime museum in the afternoon after lunch. Check-in hotel. Dinner and overnight in Oslo.
Day 10: After breakfast, we'll take a walking tour around the harbor and through the heart of Oslo. We'll learn about Norway's history and politics, including an inspiring visit to the WWII Norwegian Resistance Museum. After lunch, we'll visit the popular Frogner Park, home to Gustav Vigeland's whimsical, lifelike sculptures. Dinner and overnight in Oslo.
Day 11: Today we'll cruise across the harbor to Bygdøy peninsula for a treasure trove of nautical history. We'll tour the Viking Ship Museum to learn about Scandinavia's best collection of Viking vessels and artifacts. Nearby, you'll also have time to see the impressive Maritime Museum — as well as special museums devoted to the innovative Fram polar explorer and the ocean-crossing rafts of adventurer Thor Heyerdahl (Kon-Tiki and Ra II). Inspired by Norway's seafaring history, you'll be free to sail back to Oslo's harbor. You'll have the rest of your afternoon free in this vibrant city. Dinner and overnight in Oslo.
Day 12: Driving northwest from Oslo, today we'll learn about daily Norwegian life and traditions. We'll tour Lillehammer's beautifully-situated Maihaugen Open-Air Folk Museum, including its array of sod-roofed houses and remarkable 12th-century stave church, constructed entirely from wood. Dinner in Lillehammer. Overnight in Oslo.
Day 13: Private bus to Airport and departure from Oslo back to USA
Please note: We do our best to ensure that all sites listed in this itinerary will be seen. However, due to scheduling conflicts sites may be visited on a different day than listed. Since we have several different trip configurations touring at the same time, it is likely that groups on different tours will be combined when their itineraries overlap in certain areas.