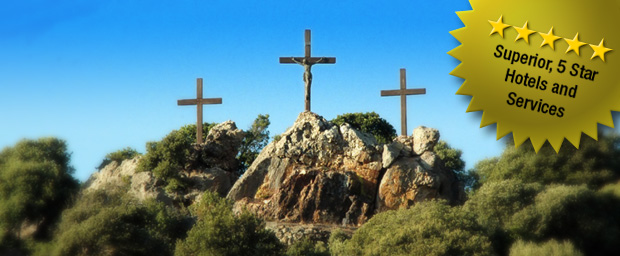 Jerusalén • Belén • Nazaret • Galilea • Vía Cruces • La Ultima Cena • Getsemani • Dormicion • Iglesia de la Natividad • Capernaúm
---
11 Dias - Vuelo y combustible incluido en todo Estados Unidos.
There are no trip dates scheduled at this time.
Viaje Incluye
Vuelos pueden originar desde cualquier lugar en E.U. donde estamos publicados. (mismo precio) No hay ningún recargo adicional para salir desde su lugar de residencia.
Habrá misas diarias pero no son obligatorios. Próximo travel siempre lleva uno o mas Sacerdotes Católicos para acompañar el grupo como capellán(es).
Impuestos de aeropuerto, cargos de seguridad y recargos de combustible ahorrándole un promedio $400-$600!
Las transferencias según el itinerario
Hoteles y Servicios Superiors de 5 Estrellas!
Transporte con autobús de lujo.
Todos los desayunos y todas cenas. Vino es incluido con todas las cenas.
Todas las propinas para el chofer, hotel, y guía de paseo.
Manejo de equipaje (1 pieza por persona)
Recuerde: Nuestros viajes no son mas caros durante la alta temporada ~ Nunca esperamos de los pasajeros que paguen demás por cualquier cosa durante el viaje ~ Siempre esperamos a todos pasajeros y nunca dejamos atrás a ninguna persona.
Viaje no incluye
---
Hotels
Hotels listed below are our preferred hotels. If reservations cannot be made at one or more of these locations, a comparable hotel will be reserved. We only use 4 or 5 star accommodations.
Jerusalem
Tiberias
---
Trip Itinerary
Día 1: Partir de E.U. Llegada el próximo día.

Día 2: Llegar al Aeropuerto Ben Gurion en Tel Aviv. Ahí nos encontraremos con nuestra guía de paseo y después iremos a nuestro hotel a través de un autobús de lujo. Tendremos una breve reunión de orientación, disfrutaremos una comida, y adaptaremos a nuestro Nuevo entorno. Cenar y pasar la noche en Jerusalén.

Día 3: Después del desayuno, vamos a La Capilla de Ascensión antes de descender a pie para visitar La Iglesia Pater Noster conmemorando a Jesús enseñando la Oración del Padre Nuestro a sus discípulos. Después vamos a caminar hacia la Iglesia de Dominus Flevit: aquí fue donde Jesús lloro sobre la Cuidad de Jerusalén y advirtió su destrucción (Lucas 19:41-44). Después vamos a visitar el Jardín de Getsemaní, la escena de la agonía de Jesús, su traición y arresto (Lucas 22:22-54). También ir a visitar la Basílica de Naciones que contiene la piedra donde se cree que Jesús oro antes de su traición y arresto. Después continuamos con la visita a la Dormición Abbey, que fue hecho sobre el lugar donde La Virgen María fue sepultada su nombre significando eterno descanso. Procedemos a la Iglesia de San Pedro en Gallicantu, el cual está hecha sobre el lugar de la casa del Sumo Sacerdote Caifás y el calabozo donde Jesús fue encarcelado antes de su juicio. También es aquí donde Pedro negó a conocer a Jesús tres veces (Lucas 22:54-62) Cenar y pasar la noche en Jerusalén.

Día 4: Después del desayuno, vamos a visitar a Belem comenzando con la Basílica de La Natividad y la Gruta, venerada como el lugar donde nació Jesús (Lucas 2:1-7). También visitar la Iglesia de Santa Catalina, el Claustro de los Cruzados, la Capilla de San Jerónimo y en la Gruta de los Santos Inocentes. Continuara con una visita al Campo de Pastores (Lucas 2:8). Después del almuerzo, en Belén vamos conducir hacia Ein Karem, la Casa de Santa Isabel, y madre de San Juan el Bautista para visitar La Iglesia de la Visitación y La Iglesia de San Juan Bautista. Disfrutaremos una noche en Jerusalén. Cenar y pasar le noche en Jerusalén.

Día 5: Vamos a Jericó par ver La Cuidad Vieja y El Monte de la Tentación. También veremos al Árbol de Zaqueo. Procedemos a Quemarán- las ruinas del antiguo Esenios donde en cuyos cuevas los Rollos del Mar Muerto fueron descubiertos; tomaremos el teleférico a la cima de Masada- el lugar de la lucha épica de los Rebeldes Judío al final de la Gran Rebelión en contra de Roma hace 2,000 años; y disfrutar de un flote relajante en el Mar Muerto. Cañar y pasar la noche en Jerusalén.

Día 6: Después del desayuno conduciremos hacia la puerta de San Esteban donde vamos a entrar a la Cuidad Antigua para comenzar nuestro paseo de la mañana en la Iglesia de Los Crusados de Santa Ana y la Piscina de Bethesda. Continuamos hacia la Torre de Antonia donde Jesús fue juzgado en la Iglesia de la Flagelación desde donde seguimos para Las Estaciones del Vía Crucis y terminando dentro de la Basílica del Santo Sepulcro. Después de almorzar en Jerusalén visitaremos al Muro de las Lamentaciones y el Museo de Israel donde los Papiros del Mar Muerto están guardados. Cenar y pasar la noche en Jerusalén.

Día 7: Viajaremos a paso lento hacia el Rio Jordán y al sitio turístico del bautismo para una visita y para la renovación del sacramento del bautismo si así lo deseas. Cañar y pasar la noche en Galilea.

Día 8: Después del desayuno dejamos el hotel y tomaremos un crucero en el Mar de Galilea desde Tiberiades a Cafarnaúm. Vamos a visitar el Museo del Barco Jesús que se descubrió en el 1984. Se remonta al tiempo de Cristo; es un descubrimiento increíble y también impresionante. Primero vamos a visitar Cafarnaúm el pueblo de Jesús, donde el realizo la mayor parte de su ministerio. Jesús le dijo a Pedro y Andrés "Siéguenme y los haré pescadores de hombres (Mateo 4:12-22), y aquí fue donde Jesús hizo la promesa de la eucaristía (Juan 6:22-71). Vamos a visitar las excavaciones y La Iglesia de San Pedro antes de visitar La Iglesia de la Primitiva de San Pedro (Juan 21:1-14) seguida por Tabica, el lugar donde Cristo alimento a 5,000 con cinco panes y dos peces (Juan 6:1-13). Procedemos a visitar el Monte de Bienaventuranzas que conmemora el Sermón del Monte (Mateo 5:1-12). A continuación veremos el sitio Magdalena antes de regresar al hotel para cenar y pasar la noche en Galilea.

Día 9: Después del desayuno, conduciremos a la Caña de Galilea donde vamos a visitar la Iglesia Franciscana de la Fiesta de Boda. Disfrutar de una cata de vinos en Caña (especialmente el vino de sabor Granada). Continuar para Nazaret donde el Ángel Gabriel le comunico a María que ella iba tener el Hijo de Dios (Lucas 1:26-38). También fue ahí donde se crio Jesús. Visitamos la Basílica de la Anunciación. También iremos a visitar la Capilla de San José y la Antigua Sinagoga que la tradición sostiene que ese simple edificio está ubicado en el lugar donde estaba la sinagoga de Jesús. Después daremos una vuelta por la Iglesia de San Gabriel (El Pozo de María), que está hecho encima del único pósito de agua fresca en Nazaret. Después del almuerzo vamos a conducir al Monte Tabor, el lugar donde Jesús se transfigure. Subimos en taxi a la cima para visitar la Basílica de la Transfiguración, y para ver la magnífica vista de la llanura de Jezreel. Cenar y pasar la noche en Galilea.

Día 10: Vamos a visitar la Cuidad de Haifa al Monte Carmelo para visitar la Madre Iglesia de la orden Carmelita y las Cuevas de Elias. Después partir para ver el impresionante acueducto en Cesárea Marítima. Después procedemos a Tiberios para cenar y por posible hospedaje (algunos vuelos requieren salidas a medianoche para asegurar llegada a E.U. en el día señalado).

Día 11: Volver a E.U. desde la Tierra Santa.

Nota importante: Intentamos hacer todo lo posible para asegurar que todos los sitios enlistados en itinerario sean visitados. Sin embargo, debido a conflictos ajenos a nuestros planes y de tiempo, puede ser que se visite un determinado lugar en otro día de lo que está escrito en el itinerario. Si algún cambio surgiría necesitamos hacer también el cambio del restaurant para la cena. De ninguna manera nunca sacrificaríamos la calidad de nuestros alimentos, todos los restaurants contratados por Proximo Travel mantienen un alto nivel estandarizado. Porque las fiestas Judías y/o el grupo son pequeño, podríamos anexar otros sitios que no están en el itinerario escritos. En orden de hacer eso, en algunos casos podríamos pernoctar en algún hotel por una noche y restar una noche al hotel previamente programado.