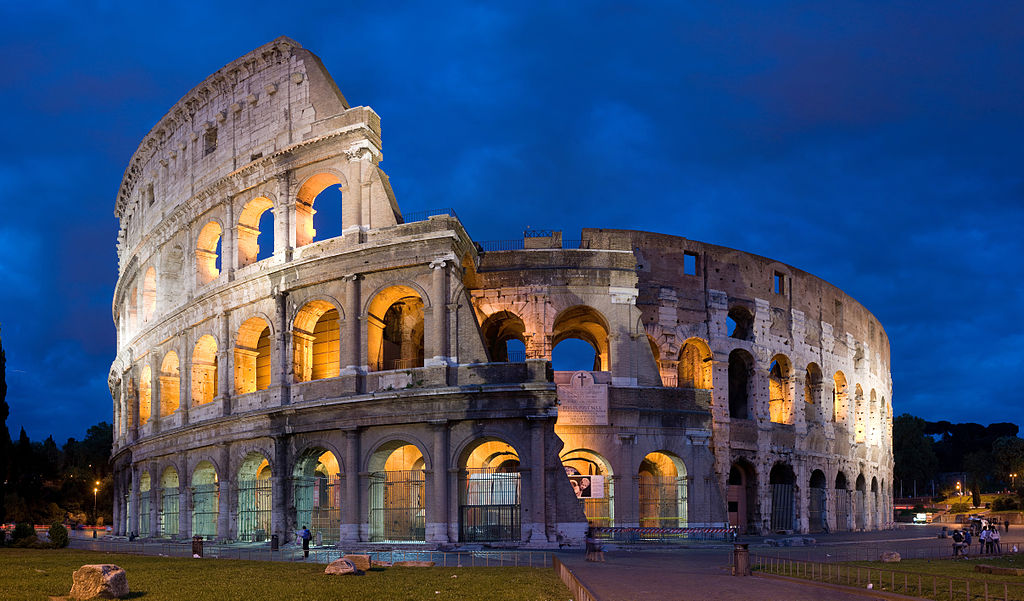 Roma • Toscana • Florencia • Asis • Venecia • Turín • Milán
---
11 Días - Vuelo y combustible incluido en todo Estados Unidos.
There are no trip dates scheduled at this time.
Viaje Incluye
Vuelos desde cualquier parte de Estados Unidos y los vuelos entre los paı́ses como por su itinerario. (Todos los vuelos necesarios en su viaje se incluyen)
Misa diaria está disponible, pero no es obligatorio. Proximo Viaje siempre tiene uno o más sacerdotes católicos que acompañan al grupo como capellán (s).
Tasas de aeropuerto, tasas de seguridad y recargos de combustible y ahorrando un promedio de $400 a $600!
Traslados mencionados en el itinerario.
Hoteles de 4 o 5 estrellas en las áreas del centro.
Transporte con autobús de lujo.
Todos los desayunos y cenas todos. Las cenas se realizan en restaurantes de lujo no en el hotel. (Excepto en Tierra Santa, en los Santuarios, o cuando hay un largo dı́a de viaje y las circunstancias lo exigen.) El vino incluido con todas las cenas.
Todos los consejos para conducir, hotel, y guı́a turı́stico.
Visitas Guiadas y cargos Turı́sticos ~ Nuestros guı́as turı́sticos son muy cuidado, con licencia, y bien educada. Muchos de nuestros guı́as tienen su doctorado.
Todos los consejos para conducir, hotel, y guı́a turı́stico.
Equipaje manipulación (1 maleta y 1 equipaje de mano por persona)
Suplemento Individual (siempre y cuando los pasajeros está dispuesto a habitación con alguien y nos permite ofrecerles un compañero de piso. Si el pasajero desea una habitación garantizada al de los suyos, entonces tienen que pagar los 900 suplemento individual)
Recuerde: Nuestros viajes no son más caros en temporada alta ~ nunca se espera que los pasajeros que pagar extra por nada durante el viaje ~ Nosotros siempre esperamos a los pasajeros y que no deje a nadie atrás.
Viaje no Incluye
Almuerzo
Seguros de viaje
---
Hotels
Hotels listed below are our preferred hotels. If reservations cannot be made at one or more of these locations, a comparable hotel will be reserved. We only use 4 or 5 star accommodations.
Rome
Florence
---
Trip Itinerary
Día 1: Salida de USA

Día 2: Llegada. Dependiendo de su hora de llegada, podemos visitar la Basílica de St. Paul fuera de la pared donde está enterrado el cuerpo de St. Paul. Es la segunda basílica más grande de Roma y el quinto en el mundo. Check in en el hotel y descansar durante unas horas si el tiempo lo permite. Por la tarde, visitaremos Santa María la Mayor, la Basílica principal dedicada a María en Roma. Vamos a ver los restos del pesebre de Jesús, la tumba de Bernini, los restos de San Mateo el Evangelista, la tumba de San Jerónimo, y el icono más antiguo del mundo de la Virgen María pintada por San Lucas: el famoso Salus Populi Romani. Podemos sumergirnos en la cultura local, asistiendo a una masa italiana en Santa María la Mayor también. Vestido casual. Cena y alojamiento en Roma.

Día 3: Inicie alrededor de las 9:00 am. Visita el Coliseo, el símbolo de la ciudad de Roma; un gran edificio que ha estado de pie desde el año 80 dC Luego visitar San Juan de Letrán, la primera basílica en ser construido en el Imperio Romano. Por la tarde, ir a las catacumbas impresionantes donde fueron enterrados 500.000 personas. Después de las Catacumbas nuestro bus privado nos llevará a disfrutar de una cata de vinos y tiempo libre en Santa María en Trastevere, el más famoso barrio de Roma por su belleza y singularidad. Cena y alojamiento en Roma.

Día 4: Comience el día alrededor de las 9:30 de la mañana, visitando San Pedro en el Vaticano, la Basílica más grande en el mundo. Ya habrá tiempo para la devoción privada y las compras antes del almuerzo. Por la tarde veremos los Museos Vaticanos y la Capilla Sixtina (Capilla privada del Papa). Pantalones largos, capris o faldas por debajo de la rodilla, hombros cubiertos. Tiempo para descansar antes de la cena en la zona del hotel. Vino blanco rojo y incluido. Durante la noche en Roma.

Día 5: Vamos a tener un comienzo temprano como sale de nuestro bus privado alrededor de las 7:00 am hasta el Vaticano para experimentar el 10 a.m. Audiencia con el Papa. Vamos a ver muy de cerca al Papa; a veces incluso nos estrechamos la mano. Ya habrá tiempo para el almuerzo en la zona del Vaticano, antes de visitar la Plaza de España. Este es el lugar donde los romanos colgaban fuera. A partir de ahí vamos a caminar a la Fontana de Trevi, y tener tiempo para ir de compras. Seguido de un paseo hasta el Panteón, el edificio funcional más antiguo del mundo, y luego a la gran lugar artístico de Piazza Navona alrededor de 16:30. Cena en la Plaza Navona. Vino blanco rojo y incluido. Vestido informal durante todo el día. Durante la noche en Roma.

Día 6: En ruta a la parada de Florencia, en Asís. Ver las tumbas de San Francisco y Santa Clara; disfrutar de un tranquilo paseo por las calles de Asís. Cena en la Toscana. Durante la noche en Florencia.

Día 7: Visita de Florencia, en la región de la Toscana. Recorrido por el Ponte Vecchio, la Piazza della Signoria, el Uffizzi, la obra maestra de Miguel Ángel, El David, Rastro, Duomo (Catedral), y el Baptisterio. Guía de Turismo mostrará a los interesados ​​la ubicación de la Basílica de San Lorenzo y la Capilla Medici (donde fue enterrado la familia Medici), y de la Basílica della Santa Croce (donde fueron enterrados Miguel Ángel y otros 15 artistas italianos gloriosos y pensadores). Cena en Florencia. Vino blanco rojo y incluido. Ropa casual durante el día. Durante la noche en Florencia.

Día 8: Visita de Venecia : una ciudad increíble construida sobre el agua . Deja de Venecia por la mañana en bus privado. Tiempo estimado de llegada es a las 12:00 del mediodía . Visita la plaza de San Marcos. Opcional: Paseo en góndola y las compras . Pantalones largos si tienen la intención de ir dentro de San Marcos . Ropa casual si va a ir en un paseo en góndola o pasar tiempo de compras y visitar las hermosas calles y puentes de Venecia. Cena y alojamiento en Venecia.

Día 9: Salida hacia Milán. Visita el Duomo y disfrutar de una tarde libre para disfrutar de las vistas en Milán antes de continuar hacia Como. Cena y alojamiento en Milán.

Día 10: Visita de Turín . Explorar los principales monumentos de la ciudad y la Piazza Castello , con sus hermosos edificios. Un punto culminante de la jornada será la catedral y el museo de la Sábana Santa . Cena y alojamiento en un hotel cerca de Milán.

Día 11: Autobus nos llevará a que el aeropuerto para volar de regreso a USA