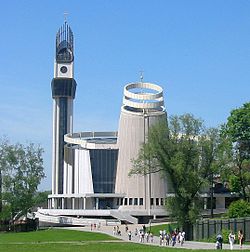 Berlin • Swiezbodin • Legnica • Czestochowa • Krakow • Zakopane
---
13 Days-Airfare Included from anywhere in the US
There are no trip dates scheduled at this time.
Trip Includes
Flights from anywhere in the United States and flights between countries as per your itinerary. (all necessary flights on your trip are included)
Daily Mass is available.
Airport Taxes, Security Fees & Fuel Surcharges Saving you an average of $400-$600!
Transfers as per itinerary.
4 or 5 star hotels in downtown areas.
Transportation with luxury bus.
All breakfasts and all dinners. Dinners take place at upscale restaurants not at the hotel. (Except in the Holy Land, at the Shrines, or when there is a long day of travel and the circumstances necessitate it.) Wine included with all dinners.
All tips to driver, hotel, and tour guide.
Guided Tours and Tour Fees ~ Our tour guides are very caring, licensed, and well educated. Many of our guides have their PhD's.
Luggage handling (1 suitcase and 1 carry-on per person)
Single Supplement (as long as the passengers is willing to room with someone and allows us to provide them with a roommate. If the passenger wants a guaranteed room to of their own, then they have to pay the $900 single supplement)
Remember: Our trips are not more expensive during high season ~ Passengers will never be expected to pay extra for anything while on the trip ~ We always wait for passengers and never leave anyone behind.
Trip Does Not Include
Lunch
Trip Insurance. Work directly with Travel Guard to protect your investment and insure your money. There are different packages to choose from depending on what your travel needs are. Use the above link or the link right below the picture of the Pope on our home page to visit their site.
Steps for Registration
Call us (855) 842-8001 or register online with a credit card and pay your $500 deposit per person to save your spot. The $500 deposit is part of the total price of the trip
A $1,000 Airfare Deposit (AD) per person is due one month from the registration. The AD is paid ONLY in the form of Check (personal, money order, or bank check)
The balance is due 4 months before the trip departure date. The balance is paid ONLY in the form of Check (personal, money order, or bank check).
Mail all checks and correspondence to:

Proximo Travel
PO Box 3479
Worcester, MA 01613

NOTE: If you sign up for a trip within 4 months of the departure date, you pay the deposit of $500 with a credit card and the balance is required to be overnighted in the form of a personal check, money order, or bank check.
---
Trip Itinerary
Sept. 22: Depart from your closest airport for your flight to Berlin. Dinner and breakfast will be served in flight.
Sept. 23: Upon arrive you will be met at the airport by the tour guide and board your private bus. Have a tour of the city and celebrate Mass. Get checked into the hotel and have time to rest before dinner with a show at a local restaurant. Overnight in Berlin.
Sept. 24: Breakfast at the hotel followed by sightseeing in the capital of reunited Germany. After lunch depart for Swierzbodin, a small city in Western Poland, to see world's largest statue of Christ (172 feet tall). Mass followed by dinner and overnight in Swierzbodin.
Sept. 25: After breakfast there will be time to shop. After lunch we head out to the historic Legnica, the center of ancient Lusatian culture, and the home of 5th century B.C. Celtic tribes. Upon arrival we will have a tour of the city and Mass. Dinner and overnight in Legnica.
Sept. 26: Breakfast and check out of the hotel. Travel to Wambierzyce for Mass at the Basilica of Our Lady, Queen of Families the title to which Fr. Tom has dedicated his pastorate. After Mass we travel to Czestochowa for dinner and overnight.
Sept. 27: Begin the day with breakfast at the hotel. Tour of Basilica & treasure house at Jasna Gora Monastery, Mass in Chapel of the Black Madonna.After lunch, free time for shopping. Dinner and overnight in Czestochowa.
Sept. 28: After breakfast, travel to Oswiecim, site of the Nazi death camp. Visit the cell of the martyr, St. Maximilian Kolbe, then see barracks, "shower'' room, & ovens at Auschwitz. Mass at Shrine of St. Maximilian, then on the Krakow for dinner and overnight.
Sept. 29: After breakfast we're off to Wieliczka the fascinating 1000-year-old salt mine. As part of our tour we will celebrate Mass in the underground Chapel of St. Kunegunda, dedicated by St. John Paul. Followed by dinner and a show in the Jewish Quarter and overnight in Krakow.
Sept. 30: After breakfast, visit royal palace and cathedral with the tomb of St. Stanislaus, bishop and martyr. Celebrate Mass in Virgin's chapel. See 'Krak' the dragon breathing fire to mark each hour and tour St. Mary's Church and 15th-century altar by Wit Stwosz, Explore artisans stalls in the Sukienica (cloth hall) on the town square--especially popular are crystal, wooden eggs, Christmas ornaments, leather goods, and folk art. Dinner and overnight in Krakow.
Oct. 1: After breakfast, travel from Karkow to Zakopane and the scenic Tatra Mountains, stopping en route for Mass and a visit to a wood carver's shop in the quaint village of Chocholow. Enjoy Gorale (mountaineer) cuisine •and entertainment in a folk restaurant then overnight in Zakopane.
Oct. 2: Breakfast then we're off to the Shrine of Our Lady of Fatima for a tour and Mass. This is followed by a relaxing boat ride on the gentle, shallow waters of Dunajec River, on border with Slovakia. Time for lunch before we return to town and the rest of the day is at your leisure. The tour guide we be available to assist you with your plans for shopping, additional sightseeing, ect. Dinner and overnight in Zakopane.
Oct. 3: After breakfast we travel to NowaHuta for Mass and a tour at Arka Pana in Bienczyce. Followed by a short trip to Divine Mercy Shrine at Lagiewniki. Dinner and show at Krakowianki restaurant
Oct. 4: Breakfast at the hotel then our bus takes us to the airport for our flight back to the USA.
Please note: We do our best to ensure that all sites listed in this itinerary will be seen. However, due to scheduling conflicts, or other circumstances beyond our control, sites may be visited on a different day than listed. If this happens it will also necessitate a change in the restaurant for dinner. However, we will never sacrifice the quality of the meal, all restaurants will meet Proximo Travel's very high standards.