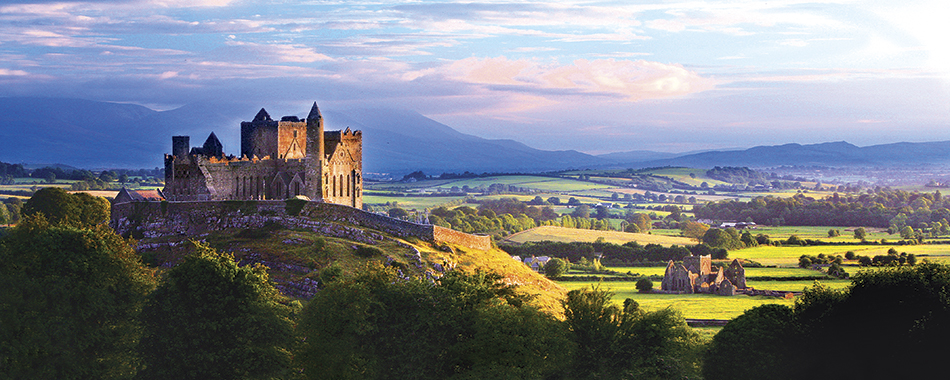 Galway • Our Lady of Knock • Cliffs of Moher • Killarney • Dublin • Stonehenge • London • Walsingham
---
13 Days - THIS PRICE INCLUDES AIRFARE FROM ANYWHERE IN THE U.S.

To view trip details, KEEP SCROLLING DOWN

To sign up online, CLICK ON THE TRIP DATE BELOW
Trips in 2018 - $4,600.00
Trips in 2019 - $4,600.00
Trip Includes
Flights from anywhere in the United States and flights between countries as per your itinerary. (all necessary flights on your trip are included)
Daily Mass is available but not mandatory. Proximo Travel strives to have one or more Catholic Priests accompanying the group as chaplain(s).
Airport Taxes, Security Fees & Fuel Surcharges Saving you an average of $400-$600!
Transfers as per itinerary.
4 or 5 star hotels in downtown areas.
Transportation with luxury bus.
All breakfasts and all dinners. Wine included with all dinners.
All tips to driver, hotel, and tour guide. If you feel that the tour guide did a great job, offering them extra tips is greatly appreciated.
Guided Tours and Tour Fees ~ Our tour guides are very caring, licensed, and well educated. Many of our guides have their PhD's.
Luggage handling (1 suitcase and 1 carry-on per person)
Single Supplement (as long as the passengers is willing to room with someone and allows us to provide them with a roommate. If the passenger wants a guaranteed room to of their own, then they have to pay the $900 single supplement)
Remember: Our trips are not more expensive during high season ~ Passengers will never be expected to pay extra for anything while on the trip ~ We always wait for passengers and never leave anyone behind.
Trip Does Not Include
Lunch
Trip Insurance. Work directly with Travel Guard to protect your investment and insure your money. There are different packages to choose from depending on what your travel needs are. Use the above link or the link right below the picture of the Pope on our home page to visit their site.
Steps for Registration
Call us (855) 842-8001 or register online with a credit card and pay your $500 deposit per person to save your spot. The $500 deposit is part of the total price of the trip
A $1,000 Airfare Deposit (AD) per person is due one month from the registration. The AD is paid ONLY in the form of Check (personal, money order, or bank check)
The balance is due 4 months before the trip departure date. The balance is paid ONLY in the form of Check (personal, money order, or bank check).
Mail all checks and correspondence to:
Proximo Travel
PO Box 3479
Worcester, MA 01613
NOTE: If you sign up for a trip within 4 months of the departure date, you pay the deposit of $500 with a credit card and the balance is required to be overnighted in the form of a personal check, money order or bank check.
---
Trip Itinerary
Day 1: Departure from USA to Shannon.
Day 2: Arrival. Drive to Our Lady of Knock and enjoy the museums and feel the presence of our Blessed Mother. Dinner and overnight in Galway or Castlebar.
Day 3: Gentle start to the day, take a leisurely morning to explore Galway by foot or just relax in the hotel. Late morning departure to tour the Connemara region taking in such sites as the Village of Cong, the abbey's in Cong and Headford, and enjoying a drive along the shore of Lough corrib Maumtaurk and 12 Bens mountain ranges and peat bogs. Dinner and overnight in Galway or Castlebar.
Day 4: Enjoy the long ride to Killarney with a stop in the beautiful heritage village of Adare. Here you will enjoy the spectacle of the thatched roof cottages or the Village's main street. Stop to grab a cup of coffee and perhaps do a little shopping. See the Cliffs of Moher: they rise vertically to a height of 650 feet over the crashing waves of the Atlantic Ocean: a breath taking sight. Dinner at a local restaurant. Overnight in Killarney.
Day 5: Leisure start to the day and enjoy the sites of Killarney on your own. After lunch enjoy a guided tour of such sites as Muckross House, Ross Castle, Killarney Lakes, Torc Waterfall, the gap of Dunloe and Aghadoe Heights just to mention a few. Overnight in Killarney.
Day 6: Today we will visit Dingle Peninsula: one of the most amazing coastal villages and quaint shops. Enjoy the historical sites dating back to the Stone Age, as well as the Beehive huts, the Gallarus oratory and Kilmalkedar Church. Dinner and overnight in Killarney.
Day 7: Today we will travel to Cork. On our way stop and visit Blarney, famous for its Blarney Castle. Visit the massive 12th century Rock of Cashel and the famous 15th century Blarney Castle to kiss the Blarney stone. Shop at the Blarney Woolen Mill where you find Irish crystal and beautiful Irish linens. Also stop in Cork where the St. Colman Cathedral is located and the infamous Titanic set sail on its ill-fated maiden voyage to the USA. Dinner and overnight in Dublin.
Day 8: Head directly to Cashel. Visit the massive 12th century Rock of Cashel. We will arrive in Dublin early and enjoy an evening to sample the delights of Ireland's capital. Dinner and overnight in Dublin.
Day 9: Tour of Dublin City by Coach: Visit Trinity College to view the Book of Kells followed by an afternoon in Glendalough. Dinner at the Arlington hotel with traditional Irish music and dance show. Overnight in Dublin.
Day 10: Fly to London. Tour of Walsingham. Dinner and overnight in Walsingham.
Day 11: We will have an early start as we head out to Stonehenge to see the ancient monoliths placed in position nearly 2000 years before the birth of Christ and which were once used to calculate the eclipses and equinoxes. Next, visit Highclere Castle ~ one of England's most beautiful Victorian castles set amidst 1,000 acres of spectacular parkland. This is the place that Downton Abbey is filmed. Next we have an excursion to Winchester Cathedral. It was built as a Catholic church, became Church of England under Henry VIII, returned to Roman Catholicism by Henry's daughter, Mary Tudor, who married her Spanish husband here, but has since returned to the Church of England. One of the largest cathedrals in England, Winchester is part of a former monastic settlement originally founded by the Benedictines in 642. Elements of the monastic buildings may still be traced throughout the Cathedral Close. After lunch in Winchester we head back to London to visit Windsor Castle, built by William the Conqueror, who invaded England in 1066. Dinner and overnight in London.
Day 12: We start our morning with Mass at the Shrine of the Sacred Heart & Tyburn Martyrs in Hyde Park Place. We then continue with our morning city sightseeing tour which will include Westminster Cathedral, the Catholic Cathedral of London, Buckingham Palace and the Changing of the Guard ceremony (if held), and Piccadilly. We will then proceed to the impressive Westminster Abbey and then Big Ben. We continue to the Tower of London where Thomas More was imprisoned in the Bell Tower for more than a year for refusing to swear to the Act of Succession and the Oath of Supremacy. He was found guilty of treason and beheaded on Tower Hill. His final words were, "The King's good servant, but God's First". This evening we have a closing dinner at a local London restaurant and have a tour at Shakespeare's Globe Theater. Overnight in London.
Day 13: After breakfast our bus takes us to the airport for our flight back to the USA.
Please note: We do our best to ensure that all sites listed in this itinerary will be seen. However, due to scheduling conflicts, or other circumstances beyond our control, sites may be visited on a different day than listed. If this happens it will also necessitate a change in the restaurant for dinner. However, we will never sacrifice the quality of the meal, all restaurants will meet Proximo Travel's very high standards. Since we have several different trip configurations touring at the same time, it is likely that groups on different tours will be combined when their itineraries overlap in certain areas.