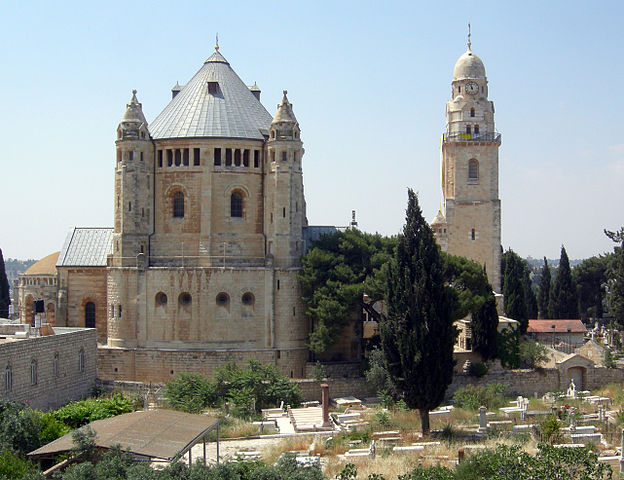 Roma • Asis • Pietrelcina • Jerusalén • Nazaret • Belén • Galilea • Via Crucis • La Ultima Cena • Getsemani • Dormicion • Iglesia de la Natividad • Capernaúm
---
13 Dias - ESTE PRECIO INCLUYE AIRFARE DE CUALQUIER LUGAR EN LOS ESTADOS UNIDOS.

Para ver los detalles del viaje, MANTENER DESPLAZAMIENTO ABAJO

Para inscribirse en línea, HAGA CLIC EN LA FECHA DE VIAJE ABAJO
There are no trip dates scheduled at this time.
Viaje Incluye
Vuelos pueden originar desde cualquier lugar en E.U. donde estamos publicados. (mismo precio) No hay ningún recargo adicional para salir desde su lugar de residencia.
Habrá misas diarias.

Proximo Travel se esfuerza por tener uno o más sacerdotes católicos acompañando al grupo como capellán (es).

Impuestos de aeropuerto, cargos de seguridad y recargos de combustible ahorrándole un promedio $400-$600!
Las transferencias según el itinerario
Hoteles y Servicios Superiors de 4 o 5 Estrellas!
Transporte con autobús de lujo.
Todos los desayunos y todas cenas. Vino es incluido con todas las cenas.
Todas las propinas para el chofer, hotel, y guía de paseo.Si te sientes que el guía hizo un gran trabajo, ofreciéndoles consejos extra es muy apreciado.
Manejo de equipaje (1 pieza por persona)
Recuerde: Nuestros viajes no son mas caros durante la alta temporada ~ Nunca esperamos de los pasajeros que paguen demás por cualquier cosa durante el viaje ~ Siempre esperamos a todos pasajeros y nunca dejamos atrás a ninguna persona.
Viaje no Incluye
---
Hotels
Hotels listed below are our preferred hotels. If reservations cannot be made at one or more of these locations, a comparable hotel will be reserved. We only use 4 or 5 star accommodations.
Rome
Florence
Jerusalem
Tiberias
---
Trip Itinerary
Itinerario de Viaje
Mayo 29: Salida desde EE.UU. Llegada al día siguiente.
Mayo 30: Dependiendo de su hora de llegada , podemos visitar la Basílica de St. Paul fuera de la pared donde está enterrado el cuerpo de St. Paul . Es la segunda basílica más grande de Roma y el quinto en el mundo . Visitaremos Santa María la Mayor, la Basílica principal dedicada a María en Roma. Vamos a ver los restos del pesebre de Jesús , la tumba de Bernini , los restos de San Mateo el Evangelista , la tumba de San Jerónimo, y el icono más antiguo en el mundo de la Virgen María pintada por San Lucas : el famoso Salus Populi Romani . Vestido casual. Cena y alojamiento en Roma.
Mayo 31: Comenzaremos temprano saldremos con nuestro autobús privado alrededor de las 7:00 am hasta el Vaticano para participar a las 10:00 am a la audiencia con el Papa. Lo vamos a ver muy de cerca al Papa; a veces hasta podríamos estrecharle la mano. Tendremos tiempo para el almuerzo en la zona del Vaticano. Visitaremos la Plaza de España, este es el lugar donde los romanos se paseaban. De ahí vamos ir caminando a la Fontana de Trevi, tendremos tiempo para ir de compras. Seguiremos a pie hasta el Panteón, es el edificio más antiguo del mundo que está todavía en función, y luego iremos a la gran plaza artística de Piazza Navona alrededor de las 4:30 de la tarde. Cenaremos en Piazza Navona. Vino tinto y blanco incluido. Ropa casual a lo largo del día. Pasaremos la noche en Roma
Junio 1: Inicio alrededor de las 9:00 am. Visita al Coliseo, el símbolo de la ciudad de Roma; una gran construcción que ha estado en pie desde el año 80 AC Luego visitaremos la basílica de San Juan de Letrán, la primera basílica construida en el Imperio Romano. Por la tarde, iremos a las impresionantes catacumbas donde fueron sepultadas más de 500.000 personas. Después de las Catacumbas nuestro bus privado nos llevará hasta el encantador Castel Gandolfo donde se encuentra la residencia de verano del Papa. Increíble lugar con su espectacular lago de Albano, pueblos que se ven igual que en la televisión. Degustación de vinos y la cena a las 6:00 pm en un restaurante local de lujo: comer donde los italianos comen, varios platillos de deliciosa comida italiana. Vino tinto y blanco incluido. De vuelta al hotel alrededor de las 9:00 de la noche. Pernoctaremos en Roma.
Junio 2: Visita de San Giovanni Rotondo y Lanciano para ver el milagro Eucaristico. Pasaremos la noche en Roma
Junio 3: Comenzaremos el día alrededor de las 9:30 de la mañana, visitaremos San Pedro en el Vaticano, la basílica más grande del mundo. Tiempo de reflexión personal y de compras antes del almuerzo. Por la tarde iremos a ver los Museos Vaticanos y la Capilla Sixtina (Capilla privada del Papa). Se requieren pantalones largos, capris, o faldas por debajo de la rodilla, y los hombros cubiertos. Tiempo para descansar antes de la cena en la zona del hotel. Vino tinto y blanco incluido. Durante la noche en Roma.
Junio 4: Visitaremos Asís. Veremos las tumbas de San Francisco y Santa Clara; disfrutaremos de un tranquilo paseo por las calles de Asís. La cena será en la Toscana. Pasaremos la noche en Roma.
Junio 5: Vuelo a Tel Aviv en el aeropuerto Ben Gurion. Presentación de tus compañeros peregrinos y guías turísticos, y traslado al hotel en autocar de lujo. Tendremos una breve reunión de orientación, y ambientarnos a nuestro nuevo entorno. Cena con vino, y pasaremos la noche en Galilea.
Junio 6: Comenzaremos el día con un paseo en barca por el Mar de Galilea para visitar las ruinas de Cafarnaum. A continuación visitaremos la Iglesia de la Multiplicación de los Panes y de los Peces y la Capilla del Primado en Tabgha. Procederemos a visitar el Montaña de las Bienaventuranzas, que conmemora el Sermón de la Montaña (Mateo 5:1-12). Después del almuerzo visitaremos Caná de Galilea, lugar donde Jesús convirtió el agua en vino durante una fiesta de bodas, y terminaremos nuestro recorrido del día en la Iglesia de la Anunciación en Nazaret. Cena con vino y alojamiento en Galilea.
Junio 7:Después del desayuno nos dirigiremos a la Puerta de San Esteban, donde vamos a entrar en la antigua ciudad y comenzaremos nuestro recorrido por la mañana en la iglesia de los cruzados en Santa Ana y la piscina de Bethesda. Continuaremos a la torre de Antonia, lugar donde Jesús fue juzgado, y a la iglesia de la Flagelación, desde donde seguiremos las estaciones del Vía Crucis que termina dentro de la Basílica del Santo Sepulcro. Después del almuerzo visitaremos el último vestigio en pie del antiguo templo del Muro de los Lamentos. Posteriormente seguiremos hasta Ein Karem, el hogar de Santa Isabel, madre de Juan el Bautista para visitar la iglesia de la visitación y de San Juan el Bautista .
Junio 8: Después del desayuno nos dirigiremos al Valle del Jordán, al lugar del bautismo para visitar y para la renovación de los promesas bautismales, si lo desea. Nuestra siguiente parada será la ciudad más antigua del mundo, Jericó, y una visita del Monte de la Tentación en el que nuestro Señor fue tentado 40 días y 40 noches. Vamos a ver también el árbol de Zaqueo, a continuación procederemos a Qumran donde se descubrieron los Rollos del Mar Muerto. Continuaremos nuestro viaje en a través del Desierto de Judea a Jerusalén, y echaremos un vistazo a la ciudad desde las alturas del monte Scopus antes de registrarnos en el hotel. Cena con vino, y pernoctaremos en Jerusalén.
Junio 9: Después del desayuno, comenzará nuestra peregrinación a Jerusalén e iremos al monte de los Olivos, en el que Jesús ascendió a los cielos después de su resurrección. Por lo tanto, nuestra primera visita es la iglesia de la Ascensión junto a la iglesia del Pater Noster (Padre Nuestro) para recordar a Jesús enseñando a sus discípulos la oración del Señor. Caminaremos por el camino del Domingo de Ramos, y visitaremos la capilla de Dominus Flevit , aquí es donde Jesús lloró sobre la ciudad de Jerusalén . A continuación, procederemos hacia el jardín de Getsemaní, y visitaremos la iglesia de María Magdalena, y visitaremos también la Iglesia de todas las Naciones. Nos trasladaremos hacia el Monte Sión para visitar el Cenáculo, donde Jesús tuvo su última cena. Siguiremos con la visita a la Abadía de la Dormición, lugar donde la Virgen María fue elevada al cielo en cuerpo y alma. Antes del almuerzo se visitaremos la iglesia de San Pedro en Galicantu, iglesia que construyó sobre el lugar de la casa del sumo sacerdote Caifás y la mazmorra donde nuestro Señor fue encarcelado antes de su juicio. Es aquí también donde Pedro negó conocer a Jesús tres veces. Después del almuerzo visitaremos Belén, iniciando con la visita a la Basílica de la Natividad y la Gruta, venerada como el lugar de nacimiento de Jesús (Lucas 2:1-7). También visitaremos la iglesia de Santa Catalina, el Claustro de los Cruzados, la Capilla de San Jerónimo y la Gruta de los Santos Inocentes. Por último, iremos a visitar los campos de los pastores antes de regresar a nuestro hotel. Cenaremos con vino y pernoctaremos en Jerusalén.
Junio 10: Nuestro autobús privado nos llevara' a Tel Aviv para volar de regreso a Los EU.
Tenga en cuenta que: Haremos nuestro mejor esfuerzo para asegurar que se visitarán todos los sitios que figuran en este programa o itinerario. Sin embargo, debido a conflictos de programación, u otras circunstancias fuera de nuestro control, los sitios pueden ser visitados en un día diferente a la programada. Si esto ocurre, también requerirá un cambio en el restaurante para la cena. Sin embargo, nunca sacrificaremos la calidad de la comida, todos los restaurantes se encuentran en muy altos estándares de Proximo Travel.