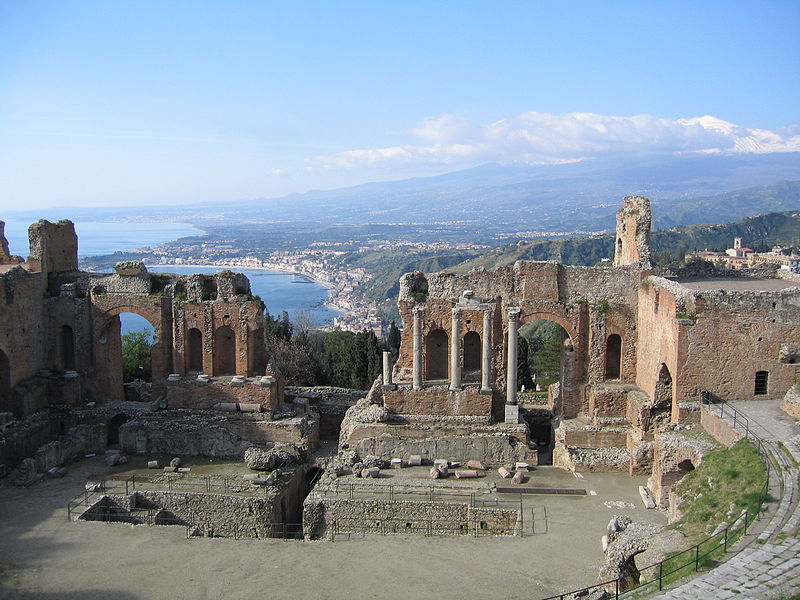 Palermo • Cefalu • Messina • Taormina • Syracuse • Catania • Mount Etna
---
9 Days - THIS PRICE INCLUDES AIRFARE FROM ANYWHERE IN THE U.S.

To view trip details, KEEP SCROLLING DOWN

To sign up online, CLICK ON THE TRIP DATE BELOW
Trips in 2024 - $5,199.00
Trip Includes
Flights from anywhere in the United States are included
Airport Taxes, Security Fees & Fuel Surcharges Saving you an average of $400-$600!
Transfers as per itinerary.
4 or 5 star hotels in downtown areas.
Transportation with luxury bus.
All breakfasts and all dinners. Dinners take place at upscale restaurants not at the hotel. Wine included with all dinners.
3 Cooking Classes and 4 Wineries.
All tips to driver, hotel, and tour guide. If you feel that the tour guide did a great job, offering them extra tips is greatly appreciated.
Guided Tours and Tour Fees ~ Our tour guides are very caring, licensed, and well educated. Many of our guides have their PhD's.
Luggage handling (1 suitcase and 1 carry-on per person)
Single Supplement (as long as the passenger is willing to room with someone and allows us to provide them with a roommate. If the passenger wants a guaranteed room to of their own, then they have to pay the $900 single supplement)
Remember: Passengers will never be expected to pay extra for anything while on the trip ~ We always wait for passengers and never leave anyone behind.
Trip Does Not Include
Lunch
Trip Insurance. Work directly with Travel Guard to protect your investment and insure your money. There are different packages to choose from depending on what your travel needs are. Use the above link or the link right below the picture of the Pope on our home page to visit their site.
Steps for Registration
Call us (855) 842-8001 or register online with a credit card and pay your $500 deposit per person to save your spot. The $500 deposit is part of the total price of the trip
A $1,000 Additional Deposit (AD) per person is due one month from the registration. The AD is paid ONLY in the form of Check (personal, money order, or bank check)
The balance is due 4 months before the trip departure date. The balance is paid ONLY in the form of Check (personal, money order, or bank check).
Mail all checks and correspondence to:

Proximo Travel
PO Box 561
Auburn, MA 01501

NOTE: If you sign up for a trip within 4 months of the departure date, you pay the deposit of $500 with a credit card and the balance is required to be overnighted in the form of a personal check, money order or bank check.
---
Trip Itinerary
Day 1: Depart from the USA on your flight to Palermo, Italy.
Day 2: Arrival in Palermo. Get acquainted with the ancient city of Palermo by taking a bus tour that includes a Phoenician-Carthaginian cemetery, Roman houses, Norman palaces, and Baroque churches. Check-in to your hotel, have time to rest before dinner and overnight in Palermo.
Day 3: Today we will take an excursion to the countryside in western Sicily to tour a vineyard, have winetasting, and enjoy a cooking class for dinner. Overnight in Palermo.
Day 4: Today we will get an early start so we can enjoy a full day in the beautiful town of Cefalu. Your tour will include the cathedral and abbey; the ruins of the Temple of Diana; the charming medieval streets and buildings; and quaint restaurants. After lunch go shopping, explore the city, or go to the beach. Enjoy a dinner and overnight in Cefalu.
Day 5: After breakfast depart from Cefalu. Enjoy a scenic coastal drive with a brief stop in Messina for lunch. Visit a winery for an afternoon winetasting. Upon arrival in the incredible city of Taormina, considered by many the most beautiful city of Italy we will have a brief tour followed by time to explore the city at leisure. Dinner and overnight in Taormina.
Day 6: Enjoy a leisurely start to the day. After lunch we will meet our chef who will guide us as we shop in the markets. This is followed by a cooking class using the fresh ingredients as we make dinner. Overnight in Taormina.
Day 7: Today we visit Catania and Syracuse. Some sights to enjoy are the Piazza Duomo ~ Elephant Fountain, walk the famous Via Crociferi and the Via Etnea, an elegant street lined with Baroque-style buildings and shops that crosses the city from Piazza Duomo to Piazza Stesicoro where you can see the Vincenzo Bellini Monument, and the imposing Roman Amphitheater. Stop at a local winery for winetasting. Visit the archaeological area and the famous Greek theater. Visit to the Duomo (Cathedral). The building contains influences from various cultures within its wall: Greek, Byzantine, Arabic. Return for dinner and overnight in Taormina.
Day 8: Today we will see the beautiful Mt Etna. It is Sicily's greatest natural attraction, and also its highest mountain. To the ancient Greeks, Mount Etna was the realm of Vulcan, god of fire, and the home of the one-eyed monster known as the Cyclops. At approximately 3,350 meters, it is Europe's highest active volcano. After a day visiting the volcano we will visit a local winery for a tour followed by a cooking class for dinner with winetasting then return for our overnight in Taormina.
Day 9: Private bus to Catania airport and departure from Italy back to USA.
Please note: We do our best to ensure that all sites listed in this itinerary will be seen. However, due to scheduling conflicts, or other circumstances beyond our control, sites may be visited on a different day than listed. If this happens it will also necessitate a change in the restaurant for dinner. However, we will never sacrifice the quality of the meal, all restaurants will meet Proximo Travel's very high standards.