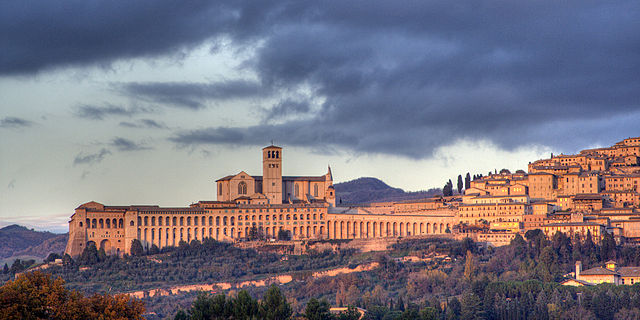 Florence • La Verna • Pieve Santo Stefano • Sansepolcro • Citerna • Citta di Castello • Collevecchio • Pietralunga • Gubbio • Biscina • Assisi • Rome
---
15 days - THIS PRICE INCLUDES AIRFARE FROM ANYWHERE IN THE U.S.

To view trip details, KEEP SCROLLING DOWN

To sign up online, CLICK ON THE TRIP DATE BELOW
There are no trip dates scheduled at this time.
Trip Includes
Flights from anywhere in the United States and flights between countries as per your itinerary (all necessary flights on your trip are included).
Daily Mass will be scheduled.
IF SOMEONE CANNOT WALK THE ENTIRE DAILY WALK DESIGNED BETWEEN ONE TOWN AND THE OTHER, THEY CANNOT BE A PART OF THIS TRIP.
Airport Taxes, Security Fees & Fuel Surcharges Saving you an average of $400-$600!
Transfers as per itinerary.
3 or 4 star hotels ONLY IF THEY EXIST. Some towns don't have them.
Transportation with luxury bus.
All breakfasts and all dinners.
All tips to driver, hotel, and tour guide. If you feel that the tour guide did a great job, offering them extra tips is greatly appreciated.
Guided Tours and Tour Fees ~ Our tour guides are very caring, licensed, and well educated. Many of our guides have their PhD's.
Transportation of luggage between cities during walking tour. Luggage handling (1 suitcase and 1 carry-on per person).
Single Supplement (as long as the passengers is willing to room with someone and allows us to provide them with a roommate. If the passenger wants a guaranteed room to of their own, then they have to pay the $900 single supplement)
Remember: Our trips are not more expensive during high season ~ Passengers will never be expected to pay extra for anything while on the trip.
NOTE: If you wish to deepen your knowledge of the Catholic Faith as a preparation for this pilgrimage, we recommend the following book as it is faithful to the teachings of the Magisterium of the Catholic Church (Imprimatur by ARCHBISHOP FELIPE AGUIRRE FRANCO): The Catholic Faith in Easy Terms. Introduction, Nihil Obstat, and Imprimatur by Archbishop Felipe Aguirre Franco.
Trip Does Not Include
Lunch
Covid Testing Costs (time for required Covid tests will be built into the tour).
Trip Insurance. Work directly with Travel Guard to protect your investment and insure your money. There are different packages to choose from depending on what your travel needs are. Use the above link or the link right below the picture of the Pope on our home page to visit their site.
Steps For Registration
Call us (855) 842-8001 or register online with a credit card and pay your $500 deposit per person to save your spot. The $500 deposit is part of the total price of the trip.
A $1,000 Additional Deposit (AD) per person is due one month from the registration. The AD is paid ONLY in the form of Check (personal, money order, or bank check).
The balance is due 4 months before the trip departure date. The balance is paid ONLY in the form of Check (personal, money order, or bank check).
Mail all checks and correspondence to:
Proximo Travel
PO Box 561
Auburn, MA 01501
NOTE: If you sign up for a trip within 4 months of the departure date, you pay the deposit of $500 with a credit card and the balance is required to be overnighted in the form of a personal check, money order or bank check.
---
Trip Itinerary
May 28 - Day 1: Depart USA for your overnight flight to Florence, Italy. Dinner and breakfast will be served on board.
May 29 - Day 2: Arrival in Florence, check into the hotel and have a free afternoon. Dinner and overnight near Santuario della Verna.
May 30 - Day 3: After breakfast depart Santuario della Verna for Pieve Santo Stefano (10 miles). Dinner and Overnight near Pieve Santo Stefano.
May 31 - Day 4: After breakfast depart Pieve Santo Stefano for Sansepolcro (15.5 miles). Dinner and Overnight near Sansepolcro.
June 1 - Day 5: After breakfast depart Sansepolcro for Citerna (8 miles). Dinner and overnight near Citerna.
June 2 - Day 6: After breakfast depart Citerna for Citta Di Castello (12.4 miles). Dinner and overnight near Citta Di Castello.
June 3 - Day 7: After breakfast depart Citta Di Castello for Collevecchio (7.4 miles), Dinner and overnight near Collevecchio.
June 4 - Day 8: After breakfast depart Collevecchio for Pietralunga (11.8 miles). Dinner and Overnight near Pietralunga.
June 2 - Day 9: After breakfast depart Pietralunga for Gubbio (16.1 miles). Dinner and overnight near Gubbio.
June 3 - Day 10: After breakfast depart Gubbio for Biscina (13.6 miles). Dinner and Overnight near Biscina.
June 4/5 - Day 11/12: After breakfast depart Biscina for Assisi (18 miles, split over two days - midway point will be in Biscina). Dinner and Overnight in Assisi.
June 6 - Day 13: Bus to Rome for free evening with dinner and overnight.
June 7 - Day 14: Free Day with dinner and overnight in Rome.
June 8 - Day 15: Bus to airport and then fly home.