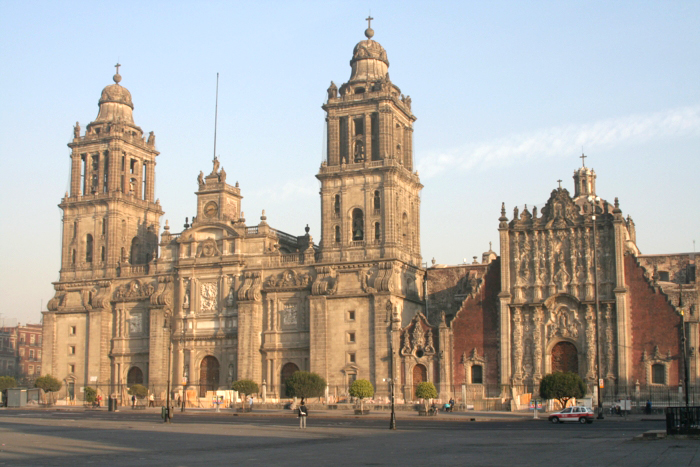 Our Lady of Guadalupe • Tlaxcala • Ocotlan • Puebla • San Juan Teotihuacan • Acolman
---
7 Days - THIS PRICE INCLUDES AIRFARE FROM ANYWHERE IN THE U.S. / 7 días - ESTE PRECIO INCLUYE TARIFAS AÉREAS DESDE CUALQUIER LUGAR DE LOS EE. UU.

To view trip details, KEEP SCROLLING DOWN / Para ver los detalles del viaje, SIGA DESPLAZANDO HACIA ABAJO

To sign up online, CLICK ON THE TRIP DATE BELOW / Para registrarse en línea, HAGA CLIC EN LA FECHA DE VIAJE A CONTINUACIÓN
There are no trip dates scheduled at this time.
Trip Includes / El viaje incluye
Flights from anywhere in the United States and flights between countries as per your itinerary (all necessary flights on your trip are included). / Vuelos desde cualquier lugar de Estados Unidos y vuelos entre países según su itinerario (se incluyen todos los vuelos necesarios en su viaje).
Daily Mass will be scheduled. / Se programará una misa diaria.
Airport Taxes, Security Fees & Fuel Surcharges Saving you an average of $400-$600! / Impuestos de aeropuerto, tarifas de seguridad y recargos por combustible ¡Le ahorra un promedio de $ 400 a $ 600!
Transfers as per itinerary. / Traslados según itinerario.
3, 4, or 5 star hotels in downtown areas. / Hoteles de 3, 4 o 5 estrellas en zonas céntricas.
Transportation with luxury bus. / Transporte con bus de lujo.
All breakfasts and all dinners. / Todos los desayunos y todas las cenas.
All tips to driver, hotel, and tour guide. If you feel that the tour guide did a great job, offering them extra tips is greatly appreciated. / Todos los consejos para el conductor, el hotel y el guía turístico. Si cree que el guía turístico hizo un gran trabajo, le agradecemos mucho que le ofrezca consejos adicionales.
Guided Tours and Tour Fees ~ Our tour guides are very caring, licensed, and well educated. Many of our guides have their PhD's / Visitas guiadas y tarifas de excursiones ~ Nuestros guías turísticos son muy atentos, tienen licencia y están bien educados. Muchos de nuestros guías tienen su doctorado..
Single Supplement (as long as the passenger is willing to room with someone and allow us to provide them with a roommate no single supplement will be added. If the passenger wants to be guaranteed a single room to of their own, then they have to pay the $500 single supplement). / Suplemento individual (siempre que el pasajero esté dispuesto a alojarse con alguien y nos permita proporcionarle un compañero de habitación, no se agregará ningún suplemento individual. Si el pasajero quiere tener garantizada una habitación individual para su propia habitación, entonces debe pagar el suplemento individual de $ 500).
Remember: Our trips are not more expensive during high season ~ Passengers will never be expected to pay extra for anything while on the trip. / Recuerda:Nuestros viajes no son más caros durante la temporada alta ~ Nunca se esperará que los pasajeros paguen más por nada durante el viaje.
NOTE: If you wish to deepen your knowledge of the Catholic Faith as a preparation for this pilgrimage, we recommend the following book as it is faithful to the teachings of the Magisterium of the Catholic Church (Imprimatur by ARCHBISHOP FELIPE AGUIRRE FRANCO): The Catholic Faith in Easy Terms. Introduction, Nihil Obstat, and Imprimatur by Archbishop Felipe Aguirre Franco. Si desea profundizar en su conocimiento de la Fe Católica como preparación para esta peregrinación, le recomendamos el siguiente libro ya que es fiel a las enseñanzas del Magisterio de la Iglesia Católica (ARZOBISPO FELIPE AGUIRRE FRANCO: Introducción, Nihil Obstat e Impresión):https://www.amazon.com/dp/1736735101?ref_=pe_3052080_397514860.
Trip Does Not Include / El viaje no incluye
Lunch / Almuerzo
Luggage / Equipaje
Covid Testing Costs (time for required Covid tests will be built into the tour)./ Costos de las pruebas de Covid (el tiempo para las pruebas de Covid requeridas se incluirá en el recorrido).
Trip Insurance. Work directly with Travel Guard to protect your investment and insure your money. There are different packages to choose from depending on what your travel needs are. Use the above link or the link right below the picture of the Pope on our home page to visit their site. / Seguro de viaje. Trabaje directamente con Travel Guard para proteger su inversión y asegure su dinero. Hay diferentes paquetes para elegir según cuáles sean sus necesidades de viaje. Utilice el enlace anterior o el enlace justo debajo de la imagen del Papa en nuestra página de inicio para visitar su sitio.
Steps For Registration / Pasos para el registro
Call us (855) 842-8001 or register online with a credit card and pay your $500 deposit per person to save your spot. The $500 deposit is part of the total price of the trip. / Llámenos al (855) 842-8001 o regístrese en línea con una tarjeta de crédito y pague su depósito de $ 500 por persona para guardar su lugar. El depósito de $ 500 es parte del precio total del viaje.
A $1,000 Additional Deposit (AD) per person is due one month from the registration. The AD is paid ONLY in the form of Check (personal, money order, or bank check). / Un depósito adicional de $ 1,000 (AD) por persona debe pagarse un mes después de la inscripción. El AD se paga ÚNICAMENTE en forma de Cheque (personal, giro postal o cheque bancario).
The balance is due 4 months before the trip departure date. The balance is paid ONLY in the form of Check (personal, money order, or bank check). / El saldo debe pagarse 4 meses antes de la fecha de salida del viaje. El saldo se paga ÚNICAMENTE en forma de Cheque (personal, giro postal o cheque bancario).
Mail all checks and correspondence to: / Envíe todos los cheques y correspondencia a:
Proximo Travel
PO Box 561
Auburn, MA 01501
NOTE: If you sign up for a trip within 4 months of the departure date, you pay the deposit of $500 with a credit card and the balance is required to be overnighted in the form of a personal check, money order or bank check. / NOTA: Si se inscribe para un viaje dentro de los 4 meses posteriores a la fecha de salida, paga el depósito de $ 500 con una tarjeta de crédito y el saldo debe pasar la noche en forma de cheque personal, orden de pago o cheque bancario.
---
Trip Itinerary
July 9 - Day 1: Depart from the USA. Upon arrival in Mexico City you will be met by your tour guide and transfer to your hotel. There you will have time to rest and refresh. Dinner and overnight in Mexico City. / Salida de los EE. UU. A su llegada a la Ciudad de México, será recibido por su guía turístico y trasladado a su hotel. Allí tendrás tiempo para descansar y refrescarte. Cena y noche en la Ciudad de México.
July 10 - Day 2: Pick up at Hotel and transfer to the Shrine of Our Lady of Guadalupe beginning with Mass at the Basilica. After Mass we will have time for a tour of the shrine including the Museum, Tepeyac Hill, Capilla del Cerrito, Tepeyac Garden, and the Chapel of the Indians. There will also be time for personal devotions. Dinner and overnight in Mexico City. / Recojo del hotel y traslado al Santuario de Nuestra Señora de Guadalupe comenzando con la Misa en la Basílica. Después de la Misa tendremos tiempo para un recorrido por el santuario que incluye el Museo, el Cerro Tepeyac, la Capilla del Cerrito, el Jardín del Tepeyac y la Capilla de los Indios. También habrá tiempo para devociones personales. Cena y noche en la Ciudad de México.
July 11 - Day 3: After breakfast we will head to the northern part of Mexico City to Tlatelolco, to visit the Three Culture Square, where is located the XVI Century Parish of Santiago Tlatelolco first catholic church of the New Continent that still exist dedicated to St. James, to honor the patron saint of the Spanish..Then will drive outside the Mexico City visit TEOTIHUACAN, UNESCO World Heritage Archaeological zone, exploring the ruins of the Pyramids of the Sun and the Moon and the Aztec Temple of Tlaloc and Quetzalcoatl. Visit to a local shop of arts and crafts and enjoy lunch . On the way back to the hotel we will stop at Acolman Agustinian Ex Convent and church, for a tour at the monastery. Dinner and overnight in Mexico City./ Luego del desayuno nos dirigiremos hacia la parte norte de la Ciudad de México rumbo a Tlatelolco, para visitar la Plaza de las Tres Culturas, donde se ubica la Parroquia de Santiago del Siglo XVI Tlatelolco primera iglesia católica del Nuevo Continente que aún existe dedicada a Santiago, en honor el santo patrón de los españoles. Luego conducirá fuera de la Ciudad de México visitando TEOTIHUACAN, zona arqueológica del Patrimonio Mundial de la UNESCO, explorando las ruinas de las Pirámides del Sol y la Luna y el Templo Azteca de Tlaloc y Quetzalcoatl. Visita a una tienda local de artesanías y disfruta del almuerzo. En el camino de regreso al hotel pararemos en el Ex Convento e Iglesia Agustiniana de Acolman, para un recorrido por el monasterio. Cena y noche en la Ciudad de México.
July 12 - Day 4: Following breakfast, we will leave Mexico City for a spectacular ride through the mountains to Tlaxcala to Ocotlan, "place of the burning oak", where in 1531, the Blessed Virgin appeared to Juan Diego Bernadino. The Blessed Virgin Mary burned an image of her perfections into the trunk of an old oak tree. Also we will visit The Franciscan convent of Our Lady of Assumption, today the Cathedral of Tlaxcala . It is one of a kind for having the bell tower apart from the convent. The interior still keeps a beautiful wooden coffered ceiling in a Mudejar style. After lunch in Tlaxcala we continue on to Puebla where we will enjoy a tour that includes the Cathedral of Puebla and the magnificent Chapel of Our Lady of the Rosary, with its most famous scalloped gold leaf walls and ceilings, St. Dominic's Church. Return for dinner and overnight in Mexico./ Luego del desayuno, saldremos de la Ciudad de México para un espectacular paseo por las montañas hasta Tlaxcala hasta Ocotlán, "lugar del roble ardiente", donde en 1531, la Santísima Virgen se apareció a Juan Diego Bernadino. La Santísima Virgen María quemó una imagen de sus perfecciones en el tronco de un viejo roble. También visitaremos El Convento Franciscano de Nuestra Señora de la Asunción, hoy Catedral de Tlaxcala. Es único por tener el campanario aparte del convento. El interior conserva un bello artesonado de madera de estilo mudéjar. Después del almuerzo en Tlaxcala continuamos hacia Puebla donde disfrutaremos de un recorrido que incluye la Catedral de Puebla y la magnífica Capilla de Nuestra Señora del Rosario, con sus muros y techos festoneados en pan de oro más famosos, la Iglesia de Santo Domingo. Regreso para cenar y pasar la noche en México.
July 13 - Day 5: Pick up at Hotel and transfer to Mexico City Historical Center beginning with Mass at the Mexico´s Cathedral (Catedral Metropolitana) the oldest and largest cathedral in all of Latin America. Begun in the late 16th century, the cathedral is a medley of styles and dominates the city's huge plaza, the Zócalo. Continue the visit at the Government Mexican Palace, then the visit to the Ancient City of the Mexicas and in the Histórical Center. In the afternoon the tour will continue with shopping in a handcraft store and then we will visit the Aztec Exhibition room at the Anthropology Museum. Dinner and overnight in Mexico City. / Recojo del hotel y traslado al Centro Histórico de la Ciudad de México comenzando con misa en la Catedral de México (Catedral Metropolitana), la catedral más grande y antigua de toda América Latina. Iniciada a finales del siglo XVI, la catedral es una mezcla de estilos y domina la enorme plaza de la ciudad, el Zócalo. Continuación de la visita en el Palacio de Gobierno Mexicano, luego visita a la Ciudad Antigua de los Mexicas y en el Centro Histórico. Por la tarde el recorrido continuará con compras en una tienda de artesanías y luego visitaremos la Sala de Exhibición Azteca en el Museo de Antropología. Cena y noche en la Ciudad de México.
July 14 - Day 6: Pick up at Hotel and transfer to Coyoacan, beginning with Mass at the Temple of Saint John the Baptist and Ex Dominican Convent, located in the magic village of Coyoacan. Hernán Cortés and the Spanish, used the area as a headquarters during the Spanish conquest of the Aztec Empire and made it the first capital of New Spain between 1521 and 1523. Then the tour continue to Xochimilco, to the Floating Gardens of Xochimilco today, these last lovely remnants of ancient Lake Texcoco and Mexica Culture.A visit to Nuestra Senora de los Remedios will be included. Dinner and overnight in Mexico City. / Recojo del Hotel y traslado a Coyoacán, comenzando con Misa en el Templo de San Juan Bautista y Ex Convento Dominicano, ubicado en el pueblo mágico de Coyoacán. Hernán Cortés y los españoles, utilizaron la zona como cuartel general durante la conquista española del Imperio Azteca y la convirtieron en la primera capital de la Nueva España entre 1521 y 1523. Luego el recorrido continúa hacia Xochimilco, hasta los Jardines Flotantes de Xochimilco hoy, estos últimos hermosos vestigios del antiguo lago de Texcoco y la cultura mexica. Se incluirá una visita a Nuestra Señora de los Remedios. Cena y noche en la Ciudad de México.
July 15 - Day 7: After breakfast, check out and with all our luggage, our van or coach brings us to the Shrine of the Lady of Guadalupe for our farewell and then we will depart to the airport of Mexico City to fly back to the USA. / Luego del desayuno, check out y con todo nuestro equipaje, nuestra camioneta o autocar nos lleva al Santuario de la Señora de Guadalupe para nuestra despedida y luego partiremos hacia el aeropuerto de la Ciudad de México para volar de regreso a Estados Unidos.
Please note: We do our best to ensure that all sites listed in this itinerary will be seen. However, due to scheduling conflicts, or other circumstances beyond our control, sites may be visited on a different day than listed. If this happens it will also necessitate a change in the restaurant for dinner. However, we will never sacrifice the quality of the meal, all restaurants will meet Proximo Travel's very high standards./ Hacemos todo lo posible para asegurarnos de que se puedan ver todos los sitios enumerados en este itinerario. Sin embargo, debido a conflictos de programación u otras circunstancias fuera de nuestro control, es posible que los sitios se visiten en un día diferente al que se indica. Si esto sucede, también será necesario un cambio en el restaurante para la cena. Sin embargo, nunca sacrificaremos la calidad de la comida, todos los restaurantes cumplirán con los muy altos estándares de Proximo Travel.