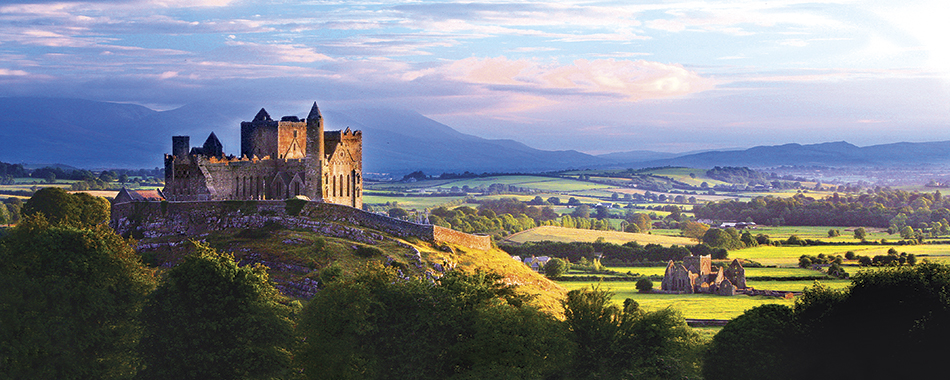 Galway • Our Lady of Knock • Cliffs of Moher • Killarney • Dingle Peninsula • Dublin • Downpatrick • City of Belfast
---
11 Days - THIS PRICE INCLUDES AIRFARE FROM ANYWHERE IN THE U.S.

To view trip details, KEEP SCROLLING DOWN

To sign up online, CLICK ON THE TRIP DATE BELOW
Trips in 2023 - $4,999.00
Trip Includes
Flights from anywhere in the United States and flights between countries as per your itinerary. (all necessary flights on your trip are included)
Daily Mass will be scheduled.
Airport Taxes, Security Fees & Fuel Surcharges Saving you an average of $400-$600!
Transfers as per itinerary.
4 or 5 star hotels in downtown areas.
Transportation with luxury bus.
All breakfasts and all dinners. Wine included with all dinners.
All tips to driver, hotel, and tour guide. If you feel that the tour guide did a great job, offering them extra tips is greatly appreciated.
Guided Tours and Tour Fees ~ Our tour guides are very caring, licensed, and well educated. Many of our guides have their PhD's.
Luggage handling (1 suitcase and 1 carry-on per person)
Single Supplement (as long as the passengers is willing to room with someone and allows us to provide them with a roommate. If the passenger wants a guaranteed room to of their own, then they have to pay the $900 single supplement)
Remember: Our trips are not more expensive during high season ~ Passengers will never be expected to pay extra for anything while on the trip.
NOTE: If you wish to deepen your knowledge of the Catholic Faith as a preparation for this pilgrimage, we recommend the following book as it is faithful to the teachings of the Magisterium of the Catholic Church (Imprimatur by ARCHBISHOP FELIPE AGUIRRE FRANCO): The Catholic Faith in Easy Terms. Introduction, Nihil Obstat, and Imprimatur by Archbishop Felipe Aguirre Franco.
Trip Does Not Include
Lunch
Covid Testing Costs (time for required Covid tests will be built into the tour).
Trip Insurance. Work directly with Travel Guard to protect your investment and insure your money. There are different packages to choose from depending on what your travel needs are. Use the above link or the link right below the picture of the Pope on our home page to visit their site.
Steps for Registration
Call us (855) 842-8001 or register online with a credit card and pay your $500 deposit per person to save your spot. The $500 deposit is part of the total price of the trip.
A $1,000 Additional Deposit (AD) per person is due one month from the registration. The AD is paid ONLY in the form of Check (personal, money order, or bank check).
The balance is due 4 months before the trip departure date. The balance is paid ONLY in the form of Check (personal, money order, or bank check).
Mail all checks and correspondence to:
Proximo Travel
PO Box 561
Auburn, MA 01501
NOTE: If you sign up for a trip within 4 months of the departure date, you pay the deposit of $500 with a credit card and the balance is required to be overnighted in the form of a personal check, money order or bank check.
---
Trip Itinerary
Day 1: Departure from USA to Shannon.
Day 2: Early Arrival in Shannon, County Clare. On route to Knock or Galway, see the beautiful Cliffs of Moher: they rise vertically to a height of 720 feet over the crashing waves of the Atlantic Ocean. Dinner at a local restaurant and overnight in the Knock or Galway area.
Day 3: Gentle start to the day: drive to Our Lady of Knock in County Mayo, enjoy the museums, and feel the presence of our Blessed Mother. Dinner and overnight in the area of Knock or Galway.
Day 4: Enjoy the long ride to Killarney, County Kerry with a stop in the quaint village of Bunratty. Here you will see a medieval castle (1425) and one of the most famous Irish pubs Durty Nellys (1620) with a chance to shop in Blarney Woollen Mills. Dinner and Overnight in Killarney.
Day 5: Today we will visit the beautiful Dingle Peninsula in County Kerry: one of the most amazing coastal villages and quaint shops. Also, walk along Ireland's longest beach, Inch Beach with fantastic views. Enjoy historical sites dating back to the Stone Age as well as the majestic views of the Blasket Islands, the Beehive huts (2000 BC) where you may get to see and hold a baby lamb. Dinner and overnight in Killarney.
Day 6: Today we will travel to County Cork and visit the famous Blarney Castle where you may kiss the Blarney stone. Shop at the Blarney Woollen Mills where you will find Irish crystal, beautiful Irish linens, etc. Dinner and overnight in Killarney.
Day 7: Drive to Ardpatrick, Co. Limerick. In Co Waterford, St Declan, who predated Patrick as an Irish missionary, held powerful sway. It was imperative that noses remained in joint, so Patrick emphasised his dominance by confirming Declan as bishop of the Deise, but wisely refrained from entering his territory. Here St. Patrick called in the bricklayers and built his first Irish monastic settlement. Then off to to Cashel, County Tipperary and visit the massive 12th century Rock of Cashel. It was here Patrick carried off a considerable coup – baptising Aengus – while carelessly impaling the king's foot with the point of his crozier. Again, this might have got either of us into royal hot water, but not Patrick. Aengus didn't complain and instead became Ireland's first Christian king. Dinner and overnight in Limerick.
Day 8: On the way to Dublin visit Wicklow. Dinner and overnight in Dublin.
Day 9: Begin the day with a visit to the monastic site of St. Kevin in Glendalough. Return to Dublin for lunch where you may choose to visit Trinity College's Book of Kells and the beautiful old library, or have some shopping time in the famous Grafton street area. Dinner show at the Arlington hotel with traditional Irish music and dance. Overnight in Dublin.
Day 10: On the way to Belfast, visit Slane in Meath county: Here St. Patrick defied the Irish high king. Ascending the Hill of Slane, he lit a pascal flame in advance of King Laoghaire's Bealtaine fire at Tara. Apparently, a foolhardy act – which should have peremptorily ended Patrick's mission – instead it made a favorable impression on the king. The symbolism was clear: Christianity had triumphed over paganism, and soon a tsunami of piety swept Ireland to extinguish Druidic beliefs. Then visit the tomb of St. Patrick in the Down Cathedral. Dinner and overnight in Belfast.
Day 11: Depart from Belfast to the US.
Please note: We do our best to ensure that all sites listed in this itinerary will be seen. However, due to scheduling conflicts, or other circumstances beyond our control, sites may be visited on a different day than listed. If this happens it will also necessitate a change in the restaurant for dinner. However, we will never sacrifice the quality of the meal, all restaurants will meet Proximo Travel's very high standards. Since we have several different trip configurations touring at the same time, it is likely that groups on different tours will be combined when their itineraries overlap in certain areas.