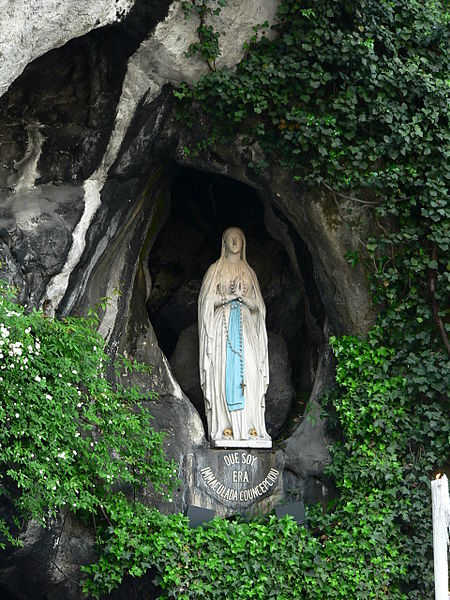 Paris • Caen • Normandy • Lisieux • Lourdes
---
10 days - Airfare and All Inclusive
There are no trip dates scheduled at this time.
Flights to France
Flights from your hometown! Flights can originate from anywhere in the continental USA, where published. You will know your flight information only after you pay your balance 120 days prior to departure. We use only reliable major airlines.
Trip Includes
Flights can originate from anywhere in the U.S. where published. (same price) There is no supplemental surcharge to fly from an airport near your home town!
Daily Mass is available but not mandatory. Proximo Travel always has one or more Catholic Priests accompanying the group as chaplain(s).
Airport Taxes, Security Fees & Fuel Surcharges Saving you an average of $400-$600!
Transfers as per itinerary.
4 or 5 star hotels in downtown areas.
Transportation with luxury bus.
All breakfasts and all dinners. Wine included with all dinners.
All tips to driver, hotel, and tour guide.
Guided Tours and Tour Fees ~ Our tour guides are very caring, licensed, and well educated. Many of our guides have their PhD's.
Luggage handling (1 piece per person)
Remember: Our trips are not more expensive during high season ~ Passengers will never be expected to pay extra for anything while on the trip ~ We always wait for passengers and never leave anyone behind.
Trip Does Not Include
Lunch
Trip Insurance
$400 surcharge for those flying from Hawaii, Alaska, or Puerto Rico
$900 Single Supplement ~ Traveling alone? No problem! Proximo Travel, LLC will be glad to place you with another passenger who is also traveling alone at no additional charge. If you want a guarantee of your own room for the entire trip then we offer the Single Supplement. By purchasing the Single Supplement, you are guaranteed your own room for the entire trip!
---
Hotels
Hotels listed below are our preferred hotels. If reservations cannot be made at one or more of these locations, a comparable hotel will be reserved. We only use 4 or 5 star accommodations.
Caen
Paris
Lourdes
---
Trip Itinerary
Day 1: Departure from USA.

Day 2: Arrive in Paris and we're off to visit Caen, the city of William the Conquerer. Visit St. Peter's Church in Caen. St. Peter's Church in Caen is a splendid example of the transition between Gothic and Renaissance forms. Visit the Caen Memorial, the best World War II museum in France. Overnight in Caen-Normandy.

Day 3: Late start and free morning to enjoy the area of Normandy. After lunch, visit Mont Saint-Michel. The towering turrets of the abbey at Mont Saint-Michel are one of the most iconic images of France. The village and monastery are built on a rocky outcrop in the middle of a tidal flat and connected to the mainland by a causeway. It is considered to be one of the wonders of the western world. Dinner and overnight in Caen-Normandy.

Day 4: Early breakfast and begin the D-Day tour to discover Le Memoria de Caen and the D-day Landing Beaches. From the harbor of Arromanches to the Point du Hock and taking in Omaha Beach on the way. Listen to the story of the done day that led to the end of the Second World War. Dinner and overnight in Caen-Normandy.

Day 5: On the drive to Paris stop at Giverney. Once in Paris start at the gardens of the Tuileries; make your way up the Champs-Elysees to shop (or just window shop) at Louis Vuitton and Herm's. See the tomb of the Unknown Soldier at Napoleon's Arc de Triomphe and look back to see the sweeping view of Paris' main boulevard. Eat lunch in the 8e arrondissement. Take the Metro to the Basilica of Sacre Coeur; visit the artists and antique shops of Montmartre. After dinner, take a romantic river ride on a Bateau Mouche and see all the beautiful sights lit up from the Seine River. Stop for an ice cream at Berthillon on your way back to the hotel. Overnight in Paris.

Day 6: Tour the Louvre, the most famous art museum, to see the Mona Lisa and the winged victory, Nike. After lunch, see the most famous sites of the city, including the Eiffel Tower, the Opera, and the Palace of the Invalides. Tour the Cathedral of Notre Dame take a tour of the Pantheon, where France's most prestigious writers and philosophers are buried. Overnight in Paris.

Day 7: Early start with a bus ride to Lisieux. Visit the tomb of St. Therese and the Cathedral and Basilica. Return to Paris after lunch. Dinner and overnight in Paris.

Day 8: Fly to Lourdes. Overnight in Lourdes.

Day 9: Lourdes for the whole day. Mass in Lourdes. This pilgrimage was designed for those who would like to spend more time in Lourdes, to pray and reflect. You will have time to pray with your fellow pilgrims and pilgrims from around the world, to attend Mass at the Grotto, watch a video presentation telling the story of Lourdes, and walk in the footsteps of St. Bernadette. Dinner and overnight in Lourdes.

Day 10: Fly back home

Please note: We do our best to ensure that all sites listed in this itinerary will be seen. However, due to scheduling conflicts, or other circumstances beyond our control, sites may be visited on a different day than listed. If this happens it will also necessitate a change in the restaurant for dinner. However, we will never sacrifice the quality of the meal, all restaurants will meet Proximo Travel's very high standards. Since we have several different trip configurations touring at the same time, it is likely that groups on different tours will be combined when their itineraries overlap in certain areas.