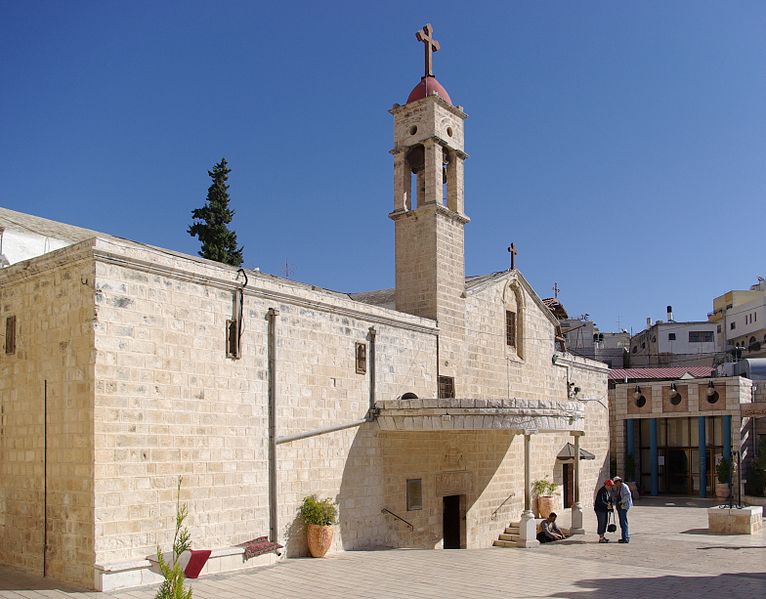 Jerusalem • Galilee • Bethlehem • Cana • Nazaret • Via Crucis • Last Supper • Gethsemane • Dormition of the Blessed Virgin Mary • Nativity Church • Capernaum • Tel Aviv
---
11 Days - Airfare included from anywhere in the U.S.
There are no trip dates scheduled at this time.
Trip Includes
Flights from anywhere in the United States and flights between countries as per your itinerary. (all necessary flights on your trip are included)
Daily Mass is available but not mandatory. Proximo Travel always has one or more Catholic Priests accompanying the group as chaplain(s).
Airport Taxes, Security Fees & Fuel Surcharges Saving you an average of $400-$600!
Transfers as per itinerary.
4 or 5 star hotels in downtown areas.
Transportation with luxury bus.
All breakfasts and all dinners. Dinners take place at upscale restaurants not at the hotel. (Except in the Holy Land, at the Shrines, or when there is a long day of travel and the circumstances necessitate it.) Wine included with all dinners.
All tips to driver, hotel, and tour guide.
Guided Tours and Tour Fees ~ Our tour guides are very caring, licensed, and well educated. Many of our guides have their PhD's.
Luggage handling (1 suitcase and 1 carry-on per person)
Single Supplement (as long as the passengers is willing to room with someone and allows us to provide them with a roommate. If the passenger wants a guaranteed room to of their own, then they have to pay the $900 single supplement)
Remember: Passengers will never be expected to pay extra for anything while on the trip ~ We always wait for passengers and never leave anyone behind.
Trip Does Not Include
Lunch
Trip Insurance. Work directly with Travel Guard to protect your investment and insure your money. There are different packages to choose from depending on what your travel needs are. Use the above link or the link right below the picture of the Pope on our home page to visit their site.
Steps for Registration
Call us (855) 842-8001 or register online with a credit card and pay your $500 deposit per person to save your spot. The $500 deposit is part of the total price of the trip
A $1,000 Airfare Deposit (AD) per person is due one month from the registration. The AD is paid ONLY in the form of Check (personal, money order, or bank check)
The balance is due 4 months before the trip departure date. The balance is paid ONLY in the form of Check (personal, money order, or bank check).
Mail all checks and correspondence to:

Proximo Travel
PO Box 3479
Worcester, MA 01613

NOTE: If you sign up for a trip within 4 months of the departure date, you pay the deposit of $500 with a credit card and the balance is required to be overnighted in the form of a personal check, money order, or bank check.
---
Hotels
Hotels listed below are our preferred hotels. If reservations cannot be made at one or more of these locations, a comparable hotel will be reserved. We only use 4 or 5 star accommodations.
Tiberias
Jerusalem
---
Trip Itinerary
Superior 5 star Services!
Day 1: Depart from USA. Arrival next day.
Day 2: Arrival Tel Aviv. Depending on time of arrival of flights, stop at Mt. Carmel - Muhraqa - for prayer. Visit the place of Elijah's sacrifice for reflective consideration of Elijah's story. Continue to Galilee to the Guesthouse on the Mt. of Beatitudes. Check in with time to relax, freshen up and change. Welcome orientation and liturgy in the Guesthouse. Dinner and overnight in Tiberias.
Day 3: Breakfast followed by morning prayer at the Guesthouse. Travel to Nazareth for a tour of the Basilica of the Annunciation. Mass at the Grotto of the Annunciation with extra time after Mass for prayer before continuing on to Mt. Tabor for prayer/reflection. Lunch will be a sack lunch picnic at Mt. Tabor brought from guesthouse. In the afternoon we will stop at Magdala Center to visit the newly discovered synagogue at Migdal and to spend time in prayer/reflection in the chapel at the Magdala Center. Return to Mount of Beatitudes by bus or walk the 4 mile Jesus Trail. Evening prayer, followed by dinner and overnight in Tiberias.
Day 4: Breakfast followed by a quiet, meditative boat ride on Sea of Galilee from Capernaum. About 1 hour long with a stop in the middle for scripture reading and prayer. After our return to Capernaum, we will have a leisurely visit at the site with Mass in the Chapel built over the House of Peter. Additional time for prayer after Mass before continue on to Tabgha. A brief guided tour followed by free time for lunch and personal devotions and reflection. Return to Mt. of Beatitudes by bus or optional walk. Evening prayer before dinner and overnight in Tiberias.
Day 5: After breakfast and morning prayer we will check out of the hotel and depart for Jerusalem. Our first stop will be at Qasr Al-Yahud for baptism renewal. Then we will continue to the Mount of Olives where we will enjoy a panoramic view of the Old City. After Mass at Dominus Flevit and time for prayer and reflection in the Garden of Gethsemane, we will continue to the Notre Dame Guesthouse for check in. Dinner and overnight in Jerusalem.
Day 6: We begin with an early breakfast and walk along the Via Dolorosa beginning at St. Anne's. This is followed by Mass at the Holy Sepulchre. Lunch and the afternoon at leisure. At sundown we will gather at the Western Wall for the beginning of Sabbath. Dinner and overnight in Jerusalem.
Day 7: We begin our day with an early Mass at the Holy Sepulchre followed by breakfast before we depart for a day excursion to visit to Qumran, Masada and Ein Gedi. We return for dinner and overnight in Jerusalem.
Day 8: Breakfast before a tour of St. Peter in Gallicantu where we will spend time at the steps leading out of the back of the church that were 1st century steps upon which Jesus walked. In the afternoon we will go to Bethlehem where we will have lunch and visit to the Basilica of the Nativity and Shepherd's field. Our Daily Mass will be at one of these locations as arranged by our local tour guide. Return for dinner and overnight in Jerusalem.
Day 9: After breakfast we will have Mass at the site of Emmaus - the Benedictine monastery/site. After Mass we will visit Church of All Nations and the model of Jerusalem at the Israel Museum. You will have a free afternoon in which you might choose to visit Yad Vashem, the Jerusalem Archaeological Complex, or the Garden Tomb. Your tour guides will be on hand to direct you to these or other sites that might be of interest. Dinner and overnight in Jerusalem.
Day 10: Breakfast then off to Ein Karem, where we will have Mass in the Church of the Visitation. You will have plenty of time for prayer and relaxation following Mass and the tour. Lunch in the area, and another free afternoon to visit additional sites, or enjoy quiet contemplation and prayer. We will have our farewell dinner and overnight in Jerusalem.
Day 11: Fly back home.
Please note: We do our best to ensure that all sites listed in this itinerary will be seen. However, due to scheduling conflicts, or other circumstances beyond our control, sites may be visited on a different day than listed. If this happens it will also necessitate a change in the restaurant for dinner. However, we will never sacrifice the quality of the meal, all restaurants will meet Proximo Travel's very high standards. Since we have several different trip configurations touring at the same time, it is likely that groups on different tours will be combined when their itineraries overlap in certain areas. In addition, because of Jewish holidays and/or when the group is small, we may be able to add a few sites that are not on the itinerary. In order to do that, in some cases we might add one night in a certain hotel and take away a night from the other one. Sometimes because of the inconvenience of flight schedule, the group might stay the last night in Tel Aviv or in Haifa in order to avoid getting up way too early to get to the airport on time (Still five star hotel).