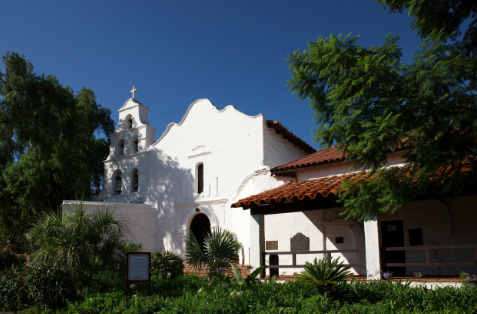 San Diego • Los Angeles • Santa Barbara • Monterey • San Francisco • and More...
---
8 Days - Our prices include airfare from your hometown
There are no trip dates scheduled at this time.
Trip Includes
Flights from anywhere in the United States and flights between countries as per your itinerary. (all necessary flights on your trip are included)
Daily Mass will be scheduled.
Airport Taxes, Security Fees & Fuel Surcharges Saving you an average of $400-$600!
Transfers as per itinerary.
4 or 5 star hotels in downtown areas.
Transportation with luxury bus.
All breakfasts and all dinners. Wine included with all dinners.
All tips to driver, hotel, and tour guide. If you feel that the tour guide did a great job, offering them extra tips is greatly appreciated.
Guided Tours and Tour Fees ~ Our tour guides are very caring, licensed, and well educated. Many of our guides have their PhD's.
Luggage handling (1 suitcase and 1 carry-on per person)
Single Supplement (as long as the passengers is willing to room with someone and allows us to provide them with a roommate. If the passenger wants a guaranteed room to of their own, then they have to pay the $900 single supplement)
Remember: Our trips are not more expensive during high season ~ Passengers will never be expected to pay extra for anything while on the trip ~ We always wait for passengers and never leave anyone behind.
Trip Does Not Include
Lunch
Trip Insurance. Work directly with Travel Guard to protect your investment and insure your money. There are different packages to choose from depending on what your travel needs are. Use the above link or the link right below the picture of the Pope on our home page to visit their site.
Steps For Registration
Call us (855) 842-8001 or register online with a credit card and pay your $500 deposit per person to save your spot. The $500 deposit is part of the total price of the trip.
A $1,000 Additional Deposit (AD) per person is due one month from the registration. The AD is paid ONLY in the form of Check (personal, money order, or bank check).
The balance is due 4 months before the trip departure date. The balance is paid ONLY in the form of Check (personal, money order, or bank check).
Mail all checks and correspondence to:
Proximo Travel
PO Box 561
Auburn, MA 01501
NOTE: If you sign up for a trip within 4 months of the departure date, you pay the deposit of $500 with a credit card and the balance is required to be overnighted in the form of a personal check, money order or bank check.
---
Trip Itinerary
January 23: You will depart from your hometown airport for your flight to San Diego, CA. When you arrive you will be met near the luggage carousel by your tour guide for the trip. If time permits we will have a bus tour of the area before going to dinner. After dinner we will check into our hotel in San Diego. This will be our only night in San Diego.
January 24: Our first stop today will be to the Mission Basilica San Diego de Alcala, founded by Fr. Junipero Serra in 1769. It is the first of the nine Missions in California that Fr. Junipero founded. We will visit all nine as we travel up the coast of California. After lunch we will depart for Los Angeles. Along the way we will stop to visit our second mission, the Mission San Juan Capistrano founded by Fr. Junipero in 1776. After our tour and time for devotions we will have dinner in the area of the mission before continuing on to our hotel in Los Angeles. In order to avoid too much heavy traffic, we are planning an evening arrival. We will stay two nights in Los Angeles.
January 25: After breakfast this morning, we will begin by seeing the Christ Cathedral in the Diocese of Orange. This is the former Crystal Cathedral built by Robert Schuler in 1980 and purchased by the Catholic Diocese in 2013. This will be followed by a visit to the San Gabriel Arcangel Mission, founded in 1771 by Fr. Junipero; and the Forest Lawn Cemetery in Glendale, known not only for the gravesites of many famous people, but also for the beautiful statues and artwork throughout the grounds. Next we will visit the Venice Canals Walkway then stop by the Santa Monica pier where you can see the western end of Route 66, walk on the beach, or visit the pier. We will have dinner in the area then visit a local casino before returning to our hotel for our second night in LA.
January 26: Today we will do a little bit of sightseeing before leaving the Los Angeles area. After breakfast we will begin with a walk down Hollywood Blvd to see the stars, compare your hands and feet to those of your favorite actors outside Grumman's Chinese Theatre. Then we will continue our way north. We will visit two missions today as we drive along the beautiful California coastline. Our first stop is the San Buenaventura Mission that Fr. Junipero founded in 1782. We will continue on the Mission San Luis Obispo, also founded by Fr. Junipero in 1772. We will have dinner in the area and spend one night in the hotel.
January 27: After breakfast we will depart for Monterey, CA. Our first stop will be the Hearst Castle where we will have a tour. After lunch we will continue up the coast making a stop at the Mission of San Antonio De Padua founded in 1771 by Fr. Junipero before continuing on to Monterey. Upon arrival in Monterey, first, we will visit the Mission San Carlos Borroméo del río Carmelo, also called Carmel Mission Basilica, which Fr. Junipero founded in 1770, followed by free time and dinner before going to our hotel nearby.
January 28: Today, as we will continue our coastal drive towards San Francisco. First, we will have a fun tour of the unique and interesting Winchester Mystery House, owned by the late Sarah Winchester, widow of William Winchester whose company manufactured the Winchester Rifles. Then on to the Mission Santa Clara de Asis, founded in 1777 by Fr. Junipero Serra. This brings us to the area of San Francisco where we will stay for the remainder of our trip. We will have dinner in the area and check into the hotel for the night.
January 29: After breakfast at the hotel, we will visit our final mission of the trip, Misión San Francisco de Asís founded by Fr. Junipero Serra in 1776. The remainder of the day will be in San Francisco, beginning with a brief bus tour of the city, the golden gate bridge, and culminating at Fisherman's Wharf for lunch and a free afternoon to explore the area on your own. We will all meet for dinner at a local restaurant before returning to our hotel for the night.
January 30: Today we will return home, our private bus will take us to the airport in time for our departing flight.
Please note: We do our best to ensure that all sites listed in this itinerary will be seen. However, due to scheduling conflicts, or other circumstances beyond our control, sites may be visited on a different day than listed. If this happens it will also necessitate a change in the restaurant for dinner. However, we will never sacrifice the quality of the meal, all restaurants will meet Proximo Travel's very high standards. Since we have several different trip configurations touring at the same time, it is likely that groups on different tours will be combined when their itineraries overlap in certain areas.
As you prepare yourself for this pilgrimage, enrich your knowledge of the Catholic Faith. Our favorite website is by: