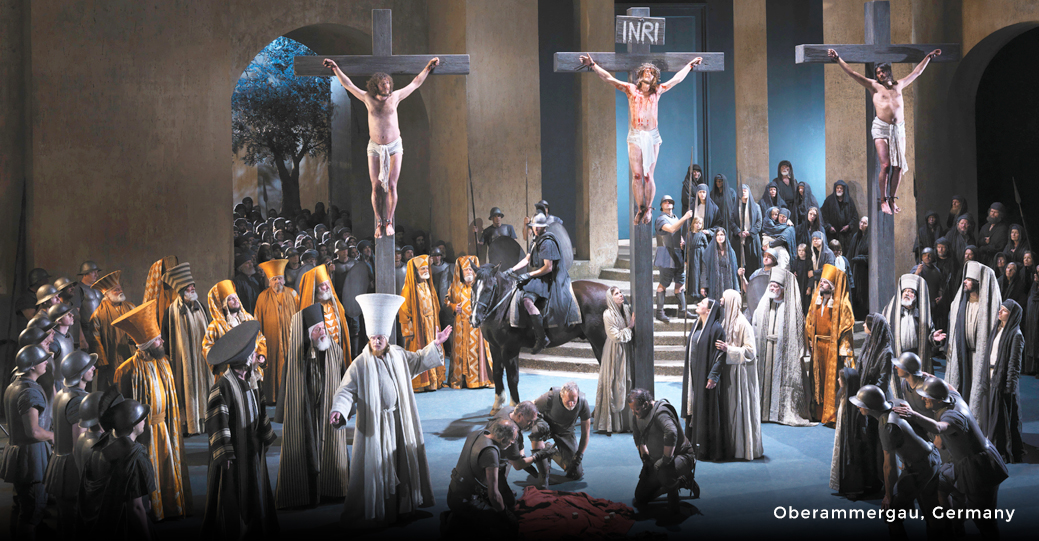 Jerusalem • Gethsemane • Bethlehem • Jericho • Galilee • Cana • Munich • Oberammergau Passion Play
---
12 Days - THIS PRICE INCLUDES AIRFARE FROM ANYWHERE IN THE U.S.

To view trip details, KEEP SCROLLING DOWN

To sign up online, CLICK ON THE TRIP DATE BELOW
Trips in 2020 - $5,999.00
Trip Includes
Flights from anywhere in the United States and flights between countries as per your itinerary. (all necessary flights on your trip are included)
Daily Mass will be scheduled.
Airport Taxes, Security Fees & Fuel Surcharges Saving you an average of $400-$600!
Transfers as per itinerary.
4 or 5 star hotels in downtown areas.
Transportation with luxury bus.
All breakfasts and all dinners.
All tips to driver, hotel, and tour guide. If you feel that the tour guide did a great job, offering them extra tips is greatly appreciated.
Guided Tours and Tour Fees ~ Our tour guides are very caring, licensed, and well educated. Many of our guides have their PhD's.
Luggage handling (1 suitcase and 1 carry-on per person)
Single Supplement (as long as the passengers is willing to room with someone and allows us to provide them with a roommate. If the passenger wants a guaranteed room to of their own, then they have to pay the $900 single supplement)
Remember: Our trips are not more expensive during high season ~ Passengers will never be expected to pay extra for anything while on the trip ~ We always wait for passengers and never leave anyone behind.
Trip Does Not Include
Lunch
Trip Insurance. Work directly with Travel Guard to protect your investment and insure your money. There are different packages to choose from depending on what your travel needs are. Use the above link or the link right below the picture of the Pope on our home page to visit their site.
Steps For Registration
At the time of registration, as a part of the total balance, a non-refundable $500 ($500 deposit airfare deposit) is due in the form of a credit card. For example, if your trip costs $3,700, when you sign up, you pay a $1,500 deposit, then your balance would be $2,200 and is due 7 months before departure date. If you sign up after the final payment due date or at the last minute, you pay the entire cost of the trip at registration.

---

Trip Itinerary

Day 1:: Depart from USA. Arrival next day.

Day 2:: Arrive at Tel Aviv Ben Gurion Airport. We will meet our guide and head to our hotel by deluxe motor coach. We will have a brief orientation meeting, enjoy a meal, and acclimate to our new surroundings. Dinner and overnight in Jerusalem.

Day 3:: After breakfast, we shall view the Place of the Ascension before we descend by foot and visit the Pater Noster Church commemorating Jesus' teaching His disciples the Lord's Prayer. Then we will walk down to the church of Dominus Flevit; here Jesus wept over the City of Jerusalem and foretold its destruction (Luke 19:41-44). We shall then visit the Garden of the Gethsemane, the scene of Jesus' agony, betrayal and arrest (Luke 22:22-54). Also visit the Church of All Nations containing the rock where Jesus is believed to have prayed before His betrayal and arrest, after lunch, visit the Upper Room, the site of the last supper. Then continue to visit the Dormition Abbey, built over the site where the Virgin Mary was laid to rest its name meaning eternal sleep. Proceed to the Church of St. Peter in Gallicantu, which is built over the site of the house of the High Priest Caiaphas and the dungeon where Our Lord was imprisoned before his trial. It is also here that Peter denied knowing Jesus thrice (Luke 22: 54-62). Dinner and overnight in Jerusalem.

Day 4:: After breakfast, we will visit Bethlehem starting with the Basilica of the Nativity and the Grotto, venerated as the birthplace of Jesus (Luke 2:1-7). Also visit the Church of St. Catherine, the Crusaders' Cloister, the Chapel of St. Jerome and the Grotto of the Holy Innocents. Continue to visit the Shepherd's Fields (Luke 2:8-20). After lunch in Bethlehem we shall drive to Ein Karem, home of St. Elizabeth, and mother of John the Baptist to visit the Church of the Visitation and the Church of St. John the Baptist. Enjoy a night tour of Jerusalem. Dinner and overnight in Jerusalem.

Day 5:: Today we shall drive to Jericho to view the Old City and the Mount of Temptation. We shall also view Zacchaeus' tree. Proceed to Qumran - ruins of the ancient Essene settlement in whose nearby caves the Dead Sea Scrolls were discovered; take the cable-car to the top of Masada - the scene of the epic stand by the Jewish Rebels at the end of the Great Revolt against Rome nearly 2,000 years ago; and enjoy a relaxing float in the Dead Sea. Dinner and overnight in Jerusalem.

Day 6:: After breakfast we will drive to St. Steven's gate where we shall enter the Old City and start our morning tour at the Crusaders' Church of St. Anne and the Pool of Bethesda. Continue to the Tower of Antonia where Jesus was tried and the Church of the Flagellation from where we will follow the Stations of the Cross ending inside the Basilica of the Holy Sepulcher. After lunch in Jerusalem visit the Wailing Wall and Israel Museum where the Dead Sea Scrolls are hosted. Dinner and overnight in Jerusalem.

Day 7:: After breakfast we will leave the hotel and take a cruise across the Sea of Galilee from Tiberias to Capharnaum. We will visit the boat of Jesus Museum discovered in 1984. It dates back to the time of Christ: an amazing and breathtaking discovery. We shall first visit Capharnaum the Town of Jesus where He carried out the major part of His Ministry. Jesus told Peter and Andrew "Follow me and I will make you fishers of men." (Matthew 4:12-22), and here Jesus made the promise of the Eucharist (John 6:22-71). We will visit the excavations and St. Peter's Church before we continue to visit the Church of the Primacy of St. Peter (John 21:1-14) followed by Tabgha, the site where Christ fed the 5,000 with five loaves and two fish (John 6:1-13). Proceed to visit the Mount of Beatitudes which commemorates the Sermon on the Mount (Matthew 5:1-12). Dinner and overnight in Galilee.

Day 8:: After breakfast, drive to Cana of Galilee where we will visit the Franciscan Church of the Wedding Feast. Enjoy a wine tasting in Cana (especially the pomegranate wine). Continue to Nazareth where the Angel Gabriel announced to Mary that she was to bear the Son of God (Luke 1:26-38). It was also here that Jesus grew up. Visit the Basilica of the Annunciation. We shall also visit the Chapel of St. Joseph and the Old Synagogue which tradition holds that this simple building stands on the site of the synagogue of Jesus. Next visit the Church of St. Gabriel (Mary's Well), which is built over the only freshwater spring in Nazareth. After lunch we will drive to Mount Tabor, the place where Jesus was transfigured. Ascend by taxis to the summit to visit the Basilica of Transfiguration, and to see the magnificent view across the plain of Jezreel. Dinner and overnight in Galilee.

Day 9::Fly to Munich. enjoy a tour of the city by bus. Dinner and overnight in Munich.

Day 10:: This morning, we celebrate the Holy Mass at Ettal Abbey. We continue on to Oberammergau area for our check-in to the hotel. In the afternoon, we take part in the extravagant Oberammergau Passion Play, performed only once every ten years and a once-in-a-lifetime experience. Beginning in the afternoon and involving almost all residents of the village, the play has a running time of approximately five hours with a three-hour intermission. Explore this quaint Bavarian village on your own. Most of the buildings have beautifully detailed murals on them, mostly of Biblically significant tableaux. Dinner and overnight in Oberammergau.

Day 11:: Free day of meditation in the area. Farewell dinner and overnight in Oberammergau.

Day 12:: We are transferred to the airport for our flight home to the USA.

Fr. Antoine (Anthony) Nachef, STD (Doctorate in Sacred Theology): Learn Catholic Faith