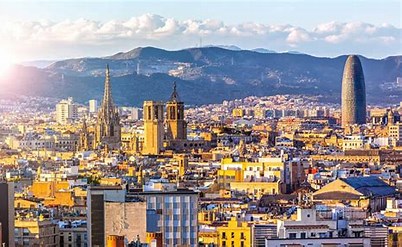 Madrid • Salamanca • Loyola • Pamplona • Manresa • Verdú • Montserrat • Barcelona
---
10 Days - THIS PRICE INCLUDES AIRFARE FROM ANYWHERE IN THE U.S.

To view trip details, KEEP SCROLLING DOWN

To sign up online, CLICK ON THE TRIP DATE BELOW
There are no trip dates scheduled at this time.
Trip Includes
Flights from anywhere in the United States and flights between countries as per your itinerary. (all necessary flights on your trip are included)
Daily Mass will be scheduled.
Airport Taxes, Security Fees & Fuel Surcharges Saving you an average of $400-$600!
Transfers as per itinerary.
4 or 5 star hotels in downtown areas.
Transportation with luxury bus.
All breakfasts and all dinners.
All tips to driver, hotel, and tour guide. If you feel that the tour guide did a great job, offering them extra tips is greatly appreciated.
Guided Tours and Tour Fees ~ Our tour guides are very caring, licensed, and well educated. Many of our guides have their PhD's.
Luggage handling (1 suitcase and 1 carry-on per person)
Single Supplement (as long as the passengers is willing to room with someone and allows us to provide them with a roommate. If the passenger wants a guaranteed room to of their own, then they have to pay the $900 single supplement)
Remember: Our trips are not more expensive during high season ~ Passengers will never be expected to pay extra for anything while on the trip ~ We always wait for passengers and never leave anyone behind.
Trip Does Not Include
Lunch
Trip Insurance. Work directly with Travel Guard to protect your investment and insure your money. There are different packages to choose from depending on what your travel needs are. Use the above link or the link right below the picture of the Pope on our home page to visit their site.
Steps For Registration
Call us (855) 842-8001 or register online with a credit card and pay your $500 deposit per person to save your spot. The $500 deposit is part of the total price of the trip.
A $1,000 Additional Deposit (AD) per person is due one month from the registration. The AD is paid ONLY in the form of Check (personal, money order, or bank check).
The balance is due 4 months before the trip departure date. The balance is paid ONLY in the form of Check (personal, money order, or bank check).
Mail all checks and correspondence to:
Proximo Travel
PO Box 561
Auburn, MA 01501
NOTE: If you sign up for a trip within 4 months of the departure date, you pay the deposit of $500 with a credit card and the balance is required to be overnighted in the form of a personal check, money order or bank check.
---
Trip Itinerary
Day 1: Depart Houston for Madrid, Spain.
Day 2: Arrival walking tour of some parts of city. Dinner Plaza del Sole. Overnight in Madrid.
Day 3: Visit the Museum Prado, the Royal Palace, and Plaza Mayor attend a Madrid sports event.
Day 4: Leave Madrid in the morning travel to Salamanca (Via Avila). At Avila see ST. Theresa home and convent. Celebrate Mass. Spiritual intensity of the trip begins. Tour the wall – needs to be as a group together and there is a small fee ($5). Eat lunch. Travel to Salamanca. Brief walking tour of Salamanca + dinner (see Jesuit sites in the city). Free time to explore city in evening. Dinner and overnight in Salamanca.
Day 5: Salamanca travel to Loyola. Begin with tour of Castle and home of Ignatius and Mass in the room of the conversion. Talks on St. Ignatius. Tour the basilica (make sure time to take in the place). Dinner and overnight in Loyola.
Day 6: Loyola visit in the AM and celebrate Mass in the room of conversion. Tour the city at sites relevant to Ignatius. Travel to Pamplona for visit of bull ring + lunch, and then onwards to Javier for visit of St. Francis and spend night. Overnight in Javier
Day 7: Tour Javier Castle in AM + Mass in Castle Church. Travel to Verdu for Lunch and tour of St. Peter Claver home. Relax in Manresa. Tour of the Cave, house with Fr. Louis and time for prayer in evening. Movie on the Life of Ignatius in the evening. Stay in the retreat center of the Jesuits in Manresa.
Day 8: Mass in Morning in the Cave (before shrine opens for private access of the chapel). Morning walk after breakfast of the city. See the church where Ignatius prayed + the hospital where he worked (chapel of the rapture) + the bridge of pilgrims. Travel to Monserrat and stay up in hotel next to Church. Visit basilica of our Lady (time for pray + talk on Ignatius + visit to the shrine of our lady). Dinner and overnight in Montserrat.
Day 9:: Mass in the small chapel inside basilica behind our Lady of Monserrat statue. Time for prayer + walk to the over watch for pictures and reflection. Walk around Monserrat shrine. Early Lunch in Monserrat @ the dining hall type restaurant there. Travel to Barcelona. Tour of Sagrada familia. See the Sword of St. Ignatius (chapel of the sacred heart). Free time on Las Ramblas in late afternoon. Dinner and overnight in Barcelona.
Day 10: Return flight from Barcelona to USA.
Please note: We do our best to ensure that all sites listed in this itinerary will be seen. However, due to scheduling conflicts, or other circumstances beyond our control, sites may be visited on a different day than listed. If this happens it will also necessitate a change in the restaurant for dinner. However, we will never sacrifice the quality of the meal, all restaurants will meet Proximo Travel's very high standards. Since we have several different trip configurations touring at the same time, it is likely that groups on different tours will be combined when their itineraries overlap in certain areas.