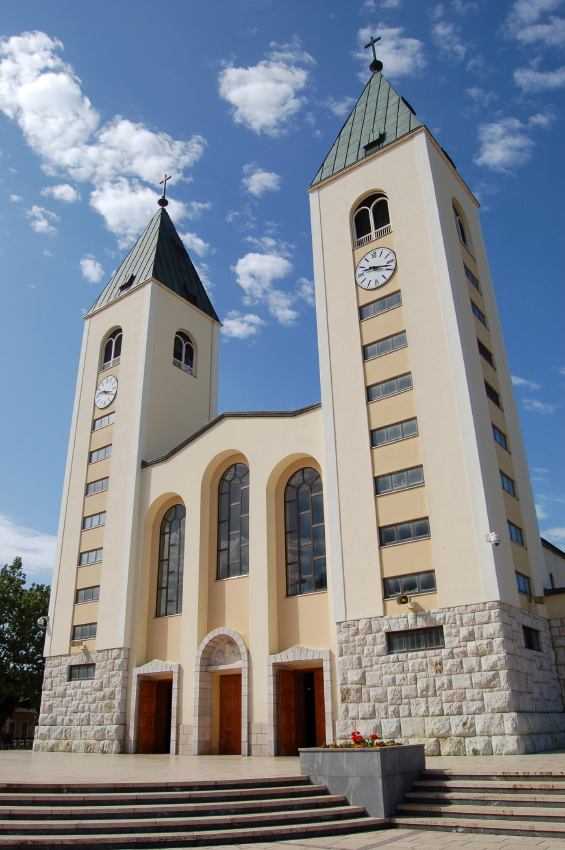 Medjugorje • Lourdes • Lisbon • Santarem • Fatima
---
12 Days - Airfare and All Inclusive
There are no trip dates scheduled at this time.
Flights to Croatia
Flights from your hometown! Flights can originate from anywhere in the USA, where published. You will know your flight information only after you pay your balance 120 days prior to departure. We use only reliable major airlines.
Trip Includes
Flights can originate from anywhere in the U.S. where published. (same price) There is no supplemental surcharge to fly from an airport near your home town!
Daily Mass is available but not mandatory. Proximo Travel always has one or more Catholic Priests accompanying the group as chaplain(s).
Airport Taxes, Security Fees & Fuel Surcharges Saving you an average of $400-$600!
Transfers as per itinerary.
4 or 5 star hotels in downtown areas.
Transportation with luxury bus.
All breakfasts and all dinners. Dinners take place at upscale restaurants not at the hotel. (Except in the Holy Land, at the Shrines, or when there is a long day of travel and the circumstances necessitate it.) Wine included with all dinners.
All tips to driver, hotel, and tour guide.
Guided Tours and Tour Fees ~ Our tour guides are very caring, licensed, and well educated. Many of our guides have their PhD's.
Luggage handling (1 suitcase and 1 carry-on per person)
Single Supplement (as long as the passengers is willing to room with someone and allows us to provide them with a roommate. If the passenger wants a guaranteed room to of their own, then they have to pay the $900 single supplement)
Remember: Our trips are not more expensive during high season ~ Passengers will never be expected to pay extra for anything while on the trip ~ We always wait for passengers and never leave anyone behind.
Trip Does Not Include
---
Hotels
Hotels listed below are our preferred hotels. If reservations cannot be made at one or more of these locations, a comparable hotel will be reserved. We only use 4 or 5 star accommodations.
Medjugorje
Lourdes
Fatima
---
Trip Itinerary
Day 1: Departure from USA.

Day 2: Upon arrival, you'll be greeted by a tour guide and/or driver who will then take you on the 2 1/2 hour drive by private coach to the village of Medjugorje. Guide will be with your group throughout your stay. Once there, you'll meet your fellow pilgrims and prepare yourself for a great pilgrimage. Overnight in Medjugorje.

Day 3-4: Experience the beauty and peace of this simple village. During your stay in Medjugorje you will have the opportunity to share faith with pilgrims from all over the world. Your local guide will accompany you throughout your stay. Overnight in Medjugorje. Here are some of the activities you'll be sharing with our fellow pilgrims. Each morning at 10am we assemble at St. James Church for the English-language Mass (Feast days and Sundays English Mass is at Noon). Follow the path up Apparition Hill where the visionaries first encountered Our Lady. Touch and pray before the cross that commemorates the spot where Mary first appeared to the visionaries. Each evening at 5pm or 6pm daylight savings time, we will join the villagers and pilgrims to pray the rosary. The apparition takes place at 5:40pm or 6:40pm daylight savings time, and then you may stay for the Croatian Mass. On Tuesdays and Saturdays there is an Adoration of the Blessed Sacrament and on Fridays Veneration of the Cross in the Church. Each evening during the Croatian Mass, there is the Blessing of the Sick in which time you may have personal items Blessed. Our guide will arrange meetings with the visionaries at their own homes provided that they are in Medjugorje during your trip, and pending their availability. We will have the opportunity to climb Krizevac Mountain, where in 1933 the villagers built a 30' high cross on the anniversary of Jesus' crucifixion. Visit and pray at "Blue Cross", which is a place of great healings and graces- a very special place at the base of Apparition Hill. We will also visit the community of Cenacolo. Overnight in Medjugorje.

Day 5: Fly from Medjugorje to Lourdes. Check-in hotel. Free afternoon in Lourdes, depending on the time of your arrival. Dinner and overnight in Lourdes.

Day 6-7: Lourdes for the whole day, mass with the priest accompanying the group. This pilgrimage was designed for those who would like to spend more time in Lourdes, to pray and reflect. You will have time to pray with your fellow pilgrims and pilgrims from around the world, to attend Mass at the Grotto, watch a video presentation telling the story of Lourdes, and walk in the footsteps of St. Bernadette. Dinner and overnight in Lourdes.

Day 8: Fly to Lisbon. Tour of Lisbon. Drive to Fatima. Dinner and overnight in Fatima.

Day 9: Fatima - Santarem. After breakfast depart to Santarem, where one of the oldest cities in the world is located. We will walk through its narrow streets to the Church of St Stephen, containing the oldest recorded Eucharistic miracle. This miracle has been on continuous display since 1247. Dinner and overnight in Fatima.

Day 10: Late Start. Full day in Fatima. Start off your days by going to Mass at the Little Chapel of the Apparitions. We will see the Basilica, the site of Francesco and Jacinta's graves, the Hamlet of Aljustrel, where the children lived, and Valinhos, the site of Our Lady's appearance after the children's return from prison. Experience Christ's love as you walk and follow the Stations of the Cross along the Via Sacra (The Sacred Way) culminating in the Chapel of Calvary, which overlooks all of Fatima. Join pilgrims from around the world in an evening candlelight procession to pray the rosary for the sick and drink water from the miraculous well. Time for private devotions before dinner and overnight in Fatima.

Day 11: Celebrate the apparition of the Virgin Mary in Fatima with the thousands of pilgrims. Overnight in Fatima.

Day 12: Back to USA

Please note: We do our best to ensure that all sites listed in this itinerary will be seen. However, due to scheduling conflicts, or other circumstances beyond our control, sites may be visited on a different day than listed. If this happens it will also necessitate a change in the restaurant for diner. However, we will never sacrifice the quality of the meal, all restaurants will meet Proximo Travel's very high standards. Since we have several different trip configurations touring at the same time, it is likely that groups on different tours will be combined when their itineraries overlap in certain areas.